Engaging Students
Is there a secret to unlocking student engagement?>
What teaching activities promote an active and engaged classroom? How can I motivate students to learn?
Technology has precipitated fundamental changes in higher education. The information revolution has created a massive – and free - online repository of knowledge that has forever changed the roles of students and faculty. The job of an educator has evolved from simple knowledge dissemination to a more active role in the classroom: part facilitator and part motivator. Sometimes it feels like we must 'sing and dance' at the front of the classroom to get students to pay attention, let alone be interested in what we have to share with them. It can be frustrating!
Active learning may be the answer.
Active Learning
Felder & Brent (2009) describe active learning as "anything course related that all students in a classroom are called upon to do other than simply watching, listening, and taking notes." Aside from the potential to engage students, active learning strategies can be more effective for student learning.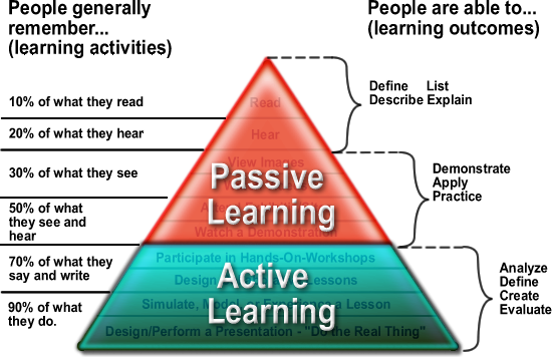 Image adapted from E. Dale, Audiovisual Methods in Teaching, 1969, NY: Dryden Press.
Students are more likely to retain information when they participate in active learning activities.
Incorporating Active Learning
As a faculty/instructor, you may wish to consider ways to incorporate active learning into your lesson plans.
Examples of Active Learning Activities
12 Examples of Active Learning Activities
Strategies to Promote Active Learning
To learn more about incorporating active learning into your teaching, consider attending one of our workshops:
Workshops available
Experiential Learning 

Student Engagement: Motivate Me!
5 Ways to Bring Project-Based Learning into your Class
Additional Resources
Five Ways to Make Your Online Classrooms More Interactive
Ten Steps to Better Student Engagement