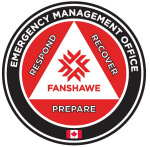 EMO provides emergency management services through the development and implementation of the College's Emergency Plan, preparedness guidelines, safe work procedures, and fire and life safety programs.
For additional information, employees and current students should access the Emergency Management Office portal page.
Contact us
For more information email us at emo@fanshawec.ca.
Information For
Fanshawe College will defer all in-person classes scheduled for the summer semester and intends to offer a blended delivery of programs in the fall.

Prospective students and their families are invited to experience Fanshawe virtually from their own homes.