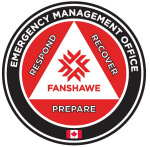 EMO provides emergency management services through the development and implementation of the College's Emergency Plan, preparedness guidelines, safe work procedures, and fire and life safety programs.
For additional information, employees and current students should access the Emergency Management Office portal page.
Contact us
For more information email us at emo@fanshawec.ca.
Information For
The Fanshawe College 2020 United Way campaign kicked off October 8, 2020 and will run until the end of January 2021.

Fanshawe College's Centre for Research and Innovation has developed a safe, rapid and inexpensive method to identify the effectiveness of potential COVID-19 drug treatments.
RT @PolyCan: Congratulations to @RFanshawe for their breakthrough development in testing the effectiveness of #COVID19 treatments. A testam…
View on Twitter