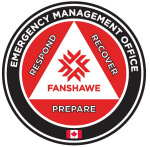 EMO provides emergency management services through the development and implementation of the College's Emergency Plan, preparedness guidelines, safe work procedures, and fire and life safety programs.
For additional information, employees and current students should access the Emergency Management Office portal page.
Contact us
For more information email us at emo@fanshawec.ca.
Information For
Fanshawe's commitment to academic quality and student success is stronger than ever.

In 2018, Ayden Miller (keyboard/synthesizer), Stefan Boulineau (lead vocals) and Cole Wilson (lead guitar) formed their band New Friends while working together in the studio of Fanshawe Music Industry Arts program.