Media advisory from Ford of Canada.
During the month of March 2021, Ford of Canada, Highbury Ford and Oakridge Ford donated two vehicles to Fanshawe College's Automotive Service Technician and Motive Power Technician (Automotive) programs. Highbury Ford provided a 2020 Ford Mustang and Oakridge Ford provided a 2020 Ford F-150 Raptor.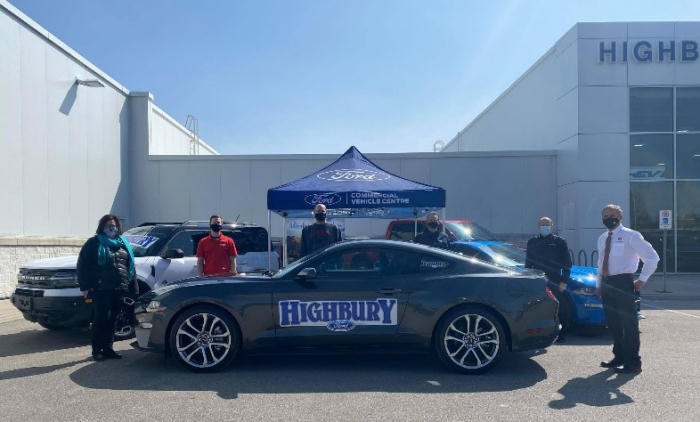 Ford Mustang donated by Highbury Ford.
"Highbury Ford has had a long-standing relationship with Fanshawe College and we are proud to be part of the donation of a 2020 Ford Mustang for increased student learning," said Peter Sandor, General Manager of Fixed Operations, Highbury Ford. "We're thankful to Ford of Canada for continuing to provide opportunities that support us giving back to our local community. We look forward to seeing how this vehicle can help students of the automotive program continue to grow and help spark interest in other young men and women to consider a job in the industry."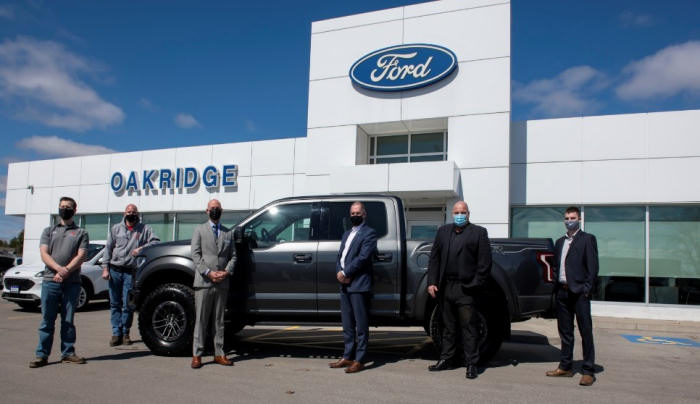 Ford Raptor donated by Oakridge Ford.
"The team here at Oakridge Ford is thrilled to be donating a 2020 Ford Raptor to the students of Fanshawe College," said Mark Stevens, Vice President Operations, Oakridge Ford. "Our dealership has always prioritized giving back to our local community, and our relationship with Fanshawe College is one that we hope to continue for years to come. Oakridge Ford is proud to champion students from the college, and each year recognizes the top performing student in the Motive Power Program with the Rafih Auto Group Award of Excellence. We wish them luck as they advance their careers in the sector."
The donation is part of a nationwide initiative in which Ford of Canada is donating a total of 95 vehicles to automotive technology educational institutions across the country. These vehicles were damaged due to flooding last year and have been deemed irreparable. As such, Ford of Canada saw an opportunity to bring some of the latest in vehicle technology to automotive programs across Canada. The two dealerships prepared the vehicles for the donations that will provide a hands-on learning experience for the students.
"Fanshawe College is very grateful to be the recipient of two substantial and exciting vehicle donations from Ford of Canada and our strong community supporters, Highbury Ford and Oakridge Ford," said Stephen Patterson, dean of the Faculty of Science, Trades and Technology at Fanshawe College. "The incredibly generous donation of the technologically-advanced and high-performing 2020 Ford Mustang and 2020 Ford Raptor by Ford of Canada provides Fanshawe College's students and professors with the most exciting and current teaching aids one could hope to have in serving today's and tomorrow's transportation technology graduates. Ford of Canada deeply supports next generation exposure to advanced technology and systems, which make our shared graduates prosperous, our future industry talents plentiful and Ontario's economy strong."
As part of this donation, Ford of Canada is providing students at Fanshawe College access to their online Automotive Career Exploration (ACE) training. ACE is a partnership program between Ford Motor Company of Canada, Ford dealerships, and secondary and post-secondary institutions that aims to raise awareness and increase interest in career opportunities within the automotive industry.
Students enrolled in a Ford ACE partnership school obtain valuable knowledge of Ford vehicle systems through specialty training in areas such as New Model Training, Electrical Systems, Steering & Suspension and Brakes. These are a subset of the same program current Ford technicians complete to receive specialty training in dealerships.
Learn more about Fanshawe College at: https://www.fanshawec.ca. Learn more Highbury Ford at www.highburyford.com and Oakridge Ford at www.oakridgeford.com.
---
For more information, please visit Fanshawe's media contact page.