Fanshawe College has once again responded to a need within the medical community.
Due to a shortage of personal protective equipment (PPE), many family doctors are not able to see patients in person. PPE is essential to prevent transmission of COVID-19 and keeps both health care workers and patients safe. When the London Middlesex Primary Care Alliance (London-Middlesex family doctors, nurse practitioners and administrators) put out a call for the safety equipment, Fanshawe's Retail Services and School of Health Sciences answered it.
The College's Retail Services store emptied its shelves of PPE equipment and donated their entire inventory to the Alliance for use within London and Middlesex. The donated items includes 200 pair of safety glasses, 120 respirator 3m N95 masks, 40 boxes of latex powder free sterile gloves, five gowns, ten bottles of whoosh disinfectant and approximately 40 scrubs in various sizes.
With Fanshawe postponing classes, the School of Health Sciences had extra PPE supplies that would normally be for student use. The School donated a cart full of new, level 3 masks; surgical masks; masks with face shields; gloves of all sizes; isolation gowns and containers of surface wipes. This is in addition to the ventilators the College loaned London Health Sciences Centre earlier this week.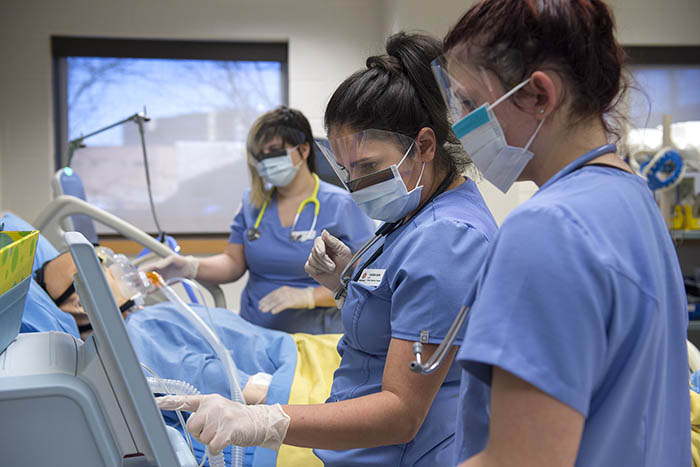 Fanshawe Respiratory Therapy students work in lab with personal protective equipment.
"During this time of social distancing, the Fanshawe community has come together to support our family physicians," says Pam McLaughlin, dean of the Faculty of Health, Community Studies and Public Safety. "The quick response from our Clinical Simulation Unit and College Retail Services will help the physicians who are running out of masks, gowns and gloves needed to protect healthcare providers. We are very proud of the contribution Fanshawe has made to support our medical community."
"As an organization that also provides health care, we understand how important personal protective equipment is to family physicians and nurse practitioners. We thank Fanshawe for their donation," says Mike McMahon, executive director, Thames Valley Family Health Team. "Primary Care Providers are working tirelessly to care for ill and worried people and PPE is critical to them. We are happy to support the London Middlesex Primary Care Alliance in any way we can."
Medical students picked up the supplies on Thursday, March 19, 2020. Thames Valley Family Health Team will store the supplies until everything can be re-deployed to those providers' offices with the most critical need.
For more information, please visit Fanshawe's media contact page.