First year Fanshawe student Breanna Trachsell is the recipient of tbk's 2019 Women in Tech Scholarship.
tbk's Women in Tech Scholarship, created by marketing and software company, tbk, pays for the first-year tuition of a student entering Fanshawe College's Interactive Media Design program.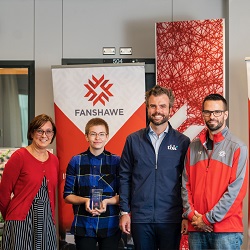 "tbk is delighted to award Breanna the Women in Tech Scholarship for 2019," said tbk's President Andrew Schiestel. "This is an intelligent and very deserving individual who works hard. Breanna has a bright future ahead of herself."
"We are honoured and delighted to partner with tbk in creating tbk's Women in Tech Scholarship," said Gillian Sneddon, executive director, Fanshawe College Foundation. "This scholarship will have a tremendous impact in encouraging and supporting women in the growing tech field. These are the types of awards that will support students, the College and our economy."
In discussing the scholarship further, Schiestel shared, "There is a talent shortage of developers in Canada. There are already many developers in industry that are male so there isn't as prominent of an issue there. But development programs often see only thirty-percent of enrolment from women. So it's tbk's view that if we can encourage more women to be developers, that will cause more developers across Canada. This will be good for the tech industry and Canada's economy."
Students are eligible for tbk's Women in Tech Scholarship who are an entry year female into Fanshawe's Interactive Media Design program; have demonstrated activity in at least one technology project during their high school career; and have a minimum Grade Point Average (GPA) of at least 85 per cent. tbk's Women in Tech Scholarship is valued at $6,000.
For more information, please visit Fanshawe's media contact page.
Information For
Fanshawe College will defer all in-person classes scheduled for the summer semester and intends to offer a blended delivery of programs in the fall.

Prospective students and their families are invited to experience Fanshawe virtually from their own homes.