Fanshawe College announced on November 23, 2021, the appointment of Simon Trevarthen as Fanshawe College's Chief Innovation and Open Assets Officer (CIOA), effective January 3, 2022.
"I am pleased to welcome Simon Trevarthen as Fanshawe College's Chief Innovation and Open Assets Officer," says Fanshawe President, Peter Devlin. "In this new role, Trevarthen will be responsible for developing a comprehensive and sustainable innovation strategy to encourage open and transformational thinking that will help both students and faculty reach new heights."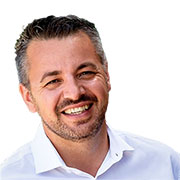 Trevarthen has extensive leadership, strategy and transformation experience. He is a seasoned business executive, consultant, facilitator and innovation advocate, with over a decade of advising, leading and inspiring teams to create ecosystem transformations in complex public and private sector organizations. His knowledge of government, the post-secondary sector, innovation, strategy development and execution will be instrumental in his role as Fanshawe's CIOA.
Prior to accepting this position, Trevarthen was the founder/transformation advisor for Elevate Your Greatness Inc., a strategic planning, facilitation, and leadership development consulting firm that supports public sector strategy execution, service transformation and innovation. Simon's work history includes holding the positions of Director, Business Innovation Office, Ontario Ministry of Health; the Principal Communications Consultant, Social Change Communications; Senior Manager – Knowledge Economy, Bearing Point (KPMG); and he has worked in Uganda, Tanzania, Jordan, Kosovo, Macedonia, Bosnia, Israel and the Palestinian territories, United Kingdom and China in various communications, media and consultant positions.
Trevarthen earned a Master (Hons) of Design in Strategic Foresight and Innovation (Design Thinking) from the Ontario College of Art and Design University; an (Executive) Certificate Management Accountant (CMA) designation; a Master (Hons) of Politics, Economics and Arabic from the University of London, UK; a BA (Hons) in Politics, Economics and International Relations, University of East Anglia, UK and he holds a LEAN-Six Sigma Black Belt.
Trevarthen is delighted to join Fanshawe and says, "I am thrilled to be joining the incredible Fanshawe family. I believe each one of us is an innovator. We have ideas that can be turned into action that create value. Being part of Fanshawe's innovation journey, I am inspired to work to make our community's ideas a reality."
This appointment follows a national search involving advisory committees that have assisted the College throughout the search.
For more information about Fanshawe College, please visit Fanshawe's media contact page.