Seventy-seven years ago, the Holy Roller was moving inland from Juno Beach to support the 1st Hussars advance across Western Europe. Today, it will be transported to Fanshawe's School of Transportation Technology and Apprenticeship where volunteers will begin a year-long effort to preserve the memorial.
Fanshawe College will be providing the facilities and supplemental equipment to the Holy Roller preservation team. Students and faculty from across the College will also be engaged in the project by incorporating Signature Innovative Learning Experiences into curriculum. For example, Broadcasting – Television and Film Production students will document the process and Auto Body Techniques and Motive Power Technician students will provide hands-on work helping to preserve the tank.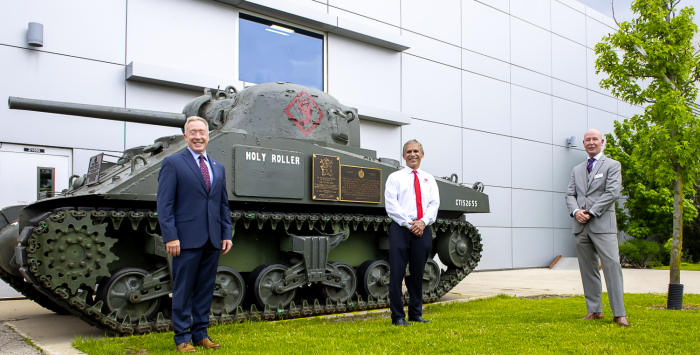 Fanshawe President Peter Devlin; Carl Mendonca, Associate Dean, School of Transportation Technology and Apprenticeship; and Stephen Patterson Dean, Faculty of Science, Trades and Technology with the Holy Roller on June 8, 2021.
In the coming months, the Holy Roller will be disassembled, parts will be refurbished or replaced and the body will be sandblasted and repainted before being returned to its original location. While the work is underway, the site in Victoria Park will be reworked to include a new base pad, gardens, benches and a plaque identifying the towns and villages liberated by the 1st Hussars during WWII.
The Holy Roller Memorial, one of two Canadian Sherman tanks to survive the Second World War, was gifted to the City of London and has been a fixture in Victoria Park since 1956. It has fallen into disrepair due to exposure to the elements and the passage of time, with 50 per cent of the metal deteriorated. The 1st Hussars Association of London started a fundraising campaign last October to raise $250,000 to preserve the memorial. To date, nearly half has been raised.
The fundraising campaign runs until June 2022. To donate or learn more about the Holy Roller's fascinating history, visit: https://www.holyrollermemorial.ca/.
Quotes:
"I applaud the 1st Hussars Association of London for leading efforts to ensure the Holy Roller remains as a visible reminder of our history, for generations to come. They exemplify what can be achieved through determination and collaboration."
- Ed Holder, Mayor of London
"Community collaborations like this help us provide exceptional learning experiences for our students while addressing a community need. The community of volunteers and donors rallying around this project are not only preserving a tank; they are preserving history for future generations."
- Peter Devlin, President, Fanshawe College
"While we have a long way to go, we are grateful for the support we've received from Fanshawe College and all donors and volunteers, to date. Our community is truly pulling together so that our veterans can be remembered through the Holy Roller memorial."
- Retired Lieutenant-Colonel Ian Haley, 1st Hussars Association of London
For more information, please visit Fanshawe's media contact page.