Students from Fanshawe College's GIS and Urban Planning and Architectural Technology programs have collaborated to reimage the urban fabric of Mitton Village, Sarnia. This experiential learning environment provided an opportunity for students to solve real-life community design problems.
City of Sarnia planning staff and the Mitton Village Community members invited Fanshawe students to develop and present urban design ideas to revitalize the neighbourhood. Using site visit research, creative design solutions, computer mapping and modelling, students designed renewed buildings, building façades, public realm and circulation patterns. The designs were presented to City of Sarnia representatives for their consideration during an online adjudication vote on Monday, May 4. The panel presented two Awards of Excellence and one Honourable Mention Award on Wednesday, May 6, 2020.
Winning entries for the future views of Mitton and Ontario Streets, Mitton Village, Sarnia:
Award of Excellence $2000: Group Five Mitton Village
Students: Werner Falcao Coelho,  Rayne Jones, Alexey Kurnikov, Leonardo Landim Santos, Dion Steenkist.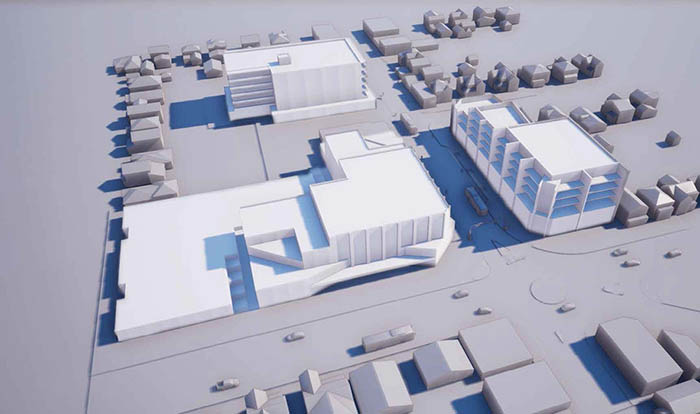 Group Five Mitton Village: Massing model.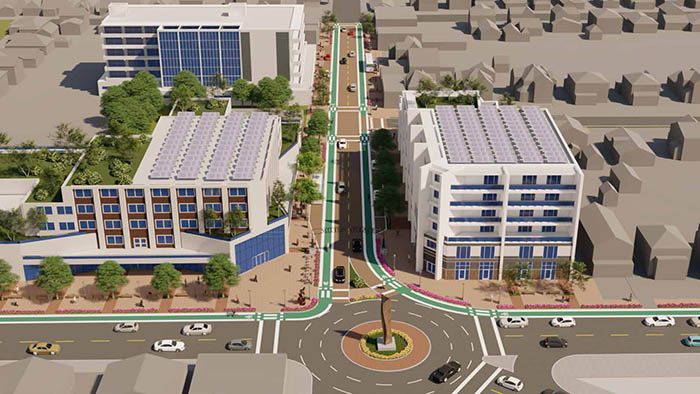 Group Five Mitton Village: Render.
Award of Excellence $2000: Group Seven Mitton Village Gateway
Students: Tonee Al-Saegh, Dojun Kwon, Ben (Sukhyung) Lee, Matthew Litwinchuk,  Rachyl Macphail.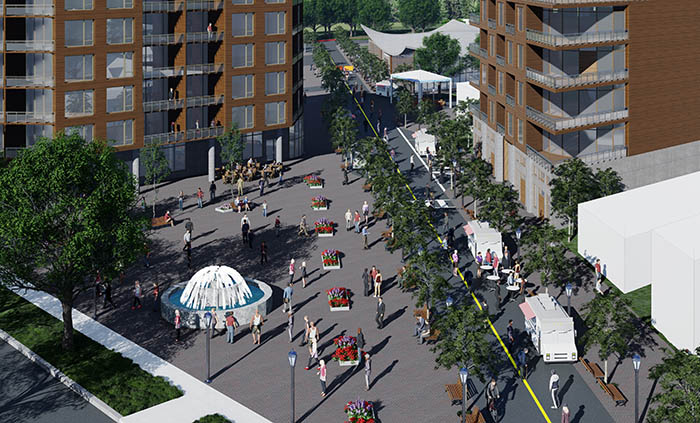 Group Seven Mitton Village Gateway: Public space.

Group Five Mitton Village Gateway: Plan.
Honourable Mention Award $1000: Group One Rekindle Mitton Village
Students:  Mike Anstee, Lucy Chen, Logan Koza, Julia McConnell, Brittany Mcphee, Robert Wojtalski.
The faculty team of Russell Schnurr and William Pol, professors in the Faculty of Creative Industries and Steve Ries, professor in the Donald J. Smith School of Building Technology, provided enrichment opportunities for the students to collaborate across their disciplines. 
Professor Ries notes, "This was a real-world project with real people and personalities. The students build more confidence in presenting their work and it gives them a great skill set for employment."
This design competition is sponsored by the Huzevka family, in memory of Marshall S. Huzevka, who provide financial support and prize money to the winning groups. The Huzevka family started this urban design competition four years ago with a goal of offering Fanshawe students access to both experiential and collaborative learning.
"Staff, faculty and community members have enjoyed guiding the student's design ideas. Through discussion, feedback and creativity, these design ideas will provide inspiration for the revitalization for the Mitton Village community. These submissions were the best projects I've seen since we started this competition," says William Pol, professor of GIS and Urban Planning program. "We thank the Huzevka family for their support of our students."
For more information, please visit Fanshawe's media contact page.