Honey can be used for so much in daily life. Not only is it a great natural sweetener to put in your tea or to add to your favourite dessert, it also produces properties that can be good for your health.
The quality of healing properties in honey changes depending on the environment and the different kinds of flora pollinated by bees. The diversity of flora in southwestern Ontario makes honey from our region unique. And the diversity of talent at Fanshawe College has created an opportunity for an innovative research project to take flight.
For nearly 10 years, Cheryl Ketola, professor and coordinator in the School of Applied Science and Technology, has been putting the pieces into place to bring bee hives to Fanshawe to facilitate research into honey as a natural healing remedy.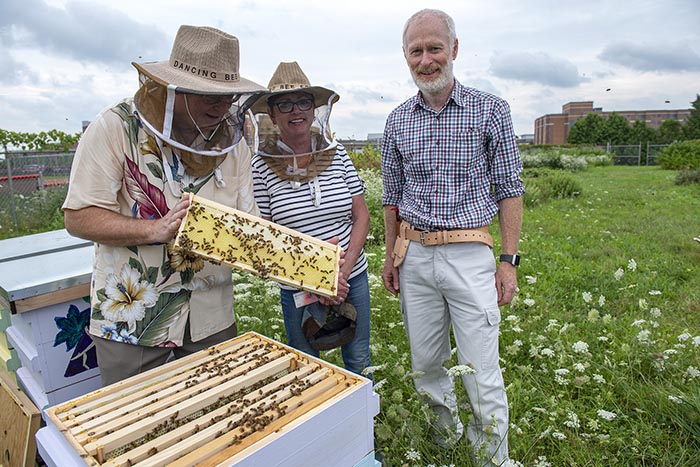 School of Applied Science and Technology faculty members Michael Jennings, Cheryl Ketola and Stephen Argall inspect one of the bee hives housed at Fanshawe's London campus.
To bring this project to life, Cheryl's vision was to source as much talent from within our College community as possible. The result is a truly multidisciplinary endeavour that showcases the scope of talent at Fanshawe.
Carpentry apprentices were engaged to build four bee hives. The hives needed to be built in a special stacked fashion, ensuring that the queen bee would stay in the bottom compartment. This allows for the honey to be collected from the other compartments without disturbing the queen or her brood.
Next, four biotechnology students were engaged to paint the hives. While painting is not necessarily a typical role for biotech students, this group welcomed the opportunity as they had been studying hard for exams and were in need of some "exam therapy."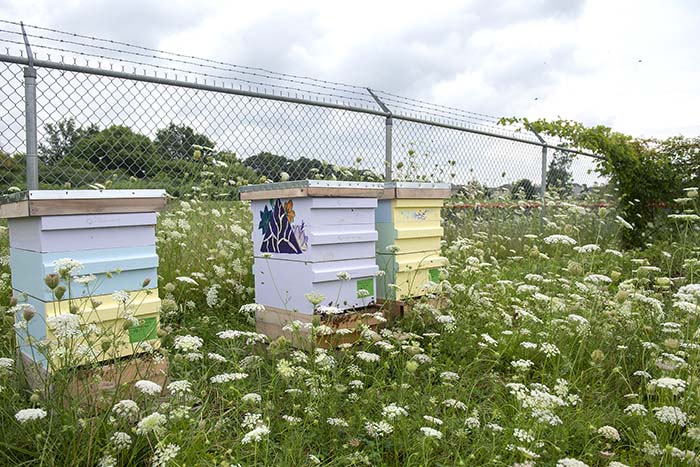 Bee hives built and painted by Fanshawe students.
The bees at Fanshawe will need to be protected from the elements during our harsh Canadian winters. Students from the School of Design are working on creating "winter coats" for the hives—protective coverings that will ensure the bees are safe during our coldest months.
Ideas are already coming to light for how to expand this project in the future. The team in the School of Applied Science and Technology has created a "wish list" for elements they would like to introduce. This includes 3D printing the "queen excluders" which keep the queen bees in the lower part of the hive. They are also exploring the possibility of a real-time monitoring system, inspired by cybersecurity technology, to monitor things like the temperature of the hives.
The teams coming together to make this project a reality today are putting important building blocks in place for the students of tomorrow. Students in biology and chemistry classes will be able to utilize the honey developed in the Fanshawe College hives for analysis of the active properties. The potential benefits for honey as a treatment for wounds and infections is significant as antibiotic resistance - a serious concern in our time - is not a factor with healing honey.
Students will be able to develop methods of analysis for a product that changes all the time. Changes in floral sources will affect the properties of honey and environmental factors brought about by climate change will likely have an effect as well. The potential benefits of this unique project - both to students and the larger southwestern Ontario community - will continue to unfold for years to come.
The bee hives are located at the Fanshawe College London Campus on Oxford Street. To learn more about research happening at Fanshawe, visit www.fanshawec.ca/research.
Information For
The Board of Governors of Fanshawe College is seeking applications for membership to fill three vacancies on the Board commencing September 1, 2021.

Fanshawe's St. Thomas/Elgin Regional Campus encourages adult learners to consider educational options this fall.
RT @unboundfashion: We are excited to announce Unbound Revival is an Official Selection at the @canifff_ca 2020!

Revival takes a look at s…
View on Twitter