Operating room skills for future doctors and nurses.
The fourth annual Fanshawe/Western Inter-professional summer surgery school, held in late June, provided a unique opportunity for students from both schools to work directly with other health care professionals in a simulated hospital environment, and to learn first-hand the role of each surgical team member.
In a real surgery there would be a minimum of five and up to 10 people in the operating room, including the anesthesiologist, nurses and physicians, says Dr. Tyler Beveridge, Anatomy Professor at Western University's Schulich School of Medicine & Dentistry and one of the event organizers. "With an opportunity for the students to experience what it is like working in the other people's shoes, they gain an understanding and deeper respect for each others' roles. It's a safe environment to challenge and question each other and to learn the perspective of other professionals."
Summer surgery school was held over three days at three different London locations. The purpose of the annual three-day workshop is for student participants to gain first-hand insight into the various aspects of surgery through a series of seminars, skills stations and simulations at different sites, while developing team building skills and an appreciation for the roles of the various healthcare practitioners involved in surgery. During day one at Western's Medical Sciences Building, Department of Anatomy and Cell Biology, students learned basic operating room skills, from putting on gloves and gowns in a sterile environment, identifying and passing instruments, and the principles of electrocautery, to suturing and knot tying.
The second day was spent at Fanshawe's main campus where simulated hospital rooms provided a realistic clinical setting. Fanshawe instructors and students from the Respiratory Therapy, Paramedic and Nursing programs volunteered their time to teach Western students the basics. How do you insert a breathing tube? An IV line? A urinary catheter? What factors do you need to consider when you are using an anesthetic on a patient?
Procedures were practiced using medium- and high-fidelity training mannequins, under the watchful eye of Fanshawe's program instructors and advanced year students. The buzz in each room was evident as future doctors and nurses cycled through a variety of stations, with the 36 Western students – half from Schulich School of Medicine & Dentistry and half from Western-Fanshawe BScN (nursing) program ­– trying their hands at catheter and IV insertion, intubation and airway maintenance, and surgical anesthesia induction.
Two students involved in this year's workshop, Sabiha Choudhury and Inas Ismail, are currently enrolled in the Respiratory Therapy program. Before coming to Canada both were doctors, Choudhury a general practitioner in Bangladesh and Ismail a general practitioner in Egypt. The RT program, they say, offers a fairly quick route to work again in the medical profession, providing patient care in Canada. They were excited to be part of the day and to work with the doctors- and nurses-in-training, and say they found the simulated exercises interesting. The two women were happy to continue talking shop over lunch where the discussion had students looking at different scenarios and how they would problem solve.
For Gary Sullivan, a professor with Fanshawe's School of Health Sciences, the day is important because it gives students from both Fanshawe and Western exposure to a broader health care team, and connects the theoretical to the practical. "These students are our future health-care providers and this event provides an excellent opportunity for them to learn in the context of an inter-professional setting," says Sullivan. "The interactions are informative and often eye-opening for the student participants. For the students who are introducing and teaching the techniques, they experience a different perspective to enhance their own skills.  For the participants, who are generally attempting these procedures for the first time, it gives them a 'preview' of what is to come and a chance to develop an insight and an appreciation for skills they will have to develop later on in their education."
Day three took place at the CSTAR (Canadian Surgical Technologies & Advanced Robotics) facility that is part of London Health Sciences Centre at University Hospital. Students were divided into groups of four and performed different simulated surgeries under the direction of a surgeon and operating room nurses.
"This event provides an early opportunity for our future healthcare practitioners to appreciate the essential roles played by one another," says Dr. Beveridge. "It is another fantastic example of the benefits of inter-professional education and the limitless potential of a collaborative approach to learning."
Collaborative learning experiences are valuable for future work as part of a health care team, says Sullivan, as participants develop knowledge of and respect for the role that each team member plays. At the end of the day, he adds, through exercises like summer surgery school, "We are making better health care providers."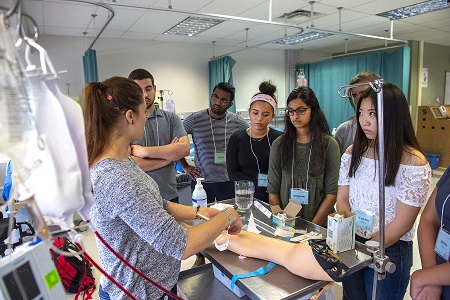 Nursing and Medical students listen intently to Pediatric ICU Nurse, Jessica Asztalos as she demonstrates the proper technique for IV insertion.