Fanshawe continues to embrace its environmental responsibility to ensure a sustainable present and future for our community. Some ongoing projects include:
Solar wall air heating
The College is completing the installation of solar walls which heats air used to ventilate buildings B, C, D, R1 and R2, so that less gas is used. The cold outside air moves across the solar wall, which is heated by the sun, offsetting around 1,500 megawatt hours per year in energy and reducing Green House Gas emissions by 285 tonnes per year. This is the equivalent to the amount of energy 51 average households use every year or the amount of emissions 54 cars or light trucks produce yearly. It represents an 8 per cent reduction in non-renewable energy required by the buildings they serve every year.
H building solar array offsets electricity
Last year, the College's first large solar array was installed on the roof of H building.
The array produces renewable energy, which offsets electricity, reducing the amount purchased from London Hydro. External electricity consumption has been reduced by 10 per cent in H building, which translates to roughly enough electricity to power five houses.
Hub of activity in D courtyard
At the centre of campus in D courtyard, there are a number of solar projects.
There is a research array where students are collecting data that can be used to inform solar projects for other buildings. This living lab also allows students in a variety of programs to design, manufacture, install and evaluate various storage and generation technologies.
Solar panels are also responsible for using the sun's power to create electricity, which produces hot water for the building. This is a novel approach as the panels are making heat so the College is not burning gas to warm the water.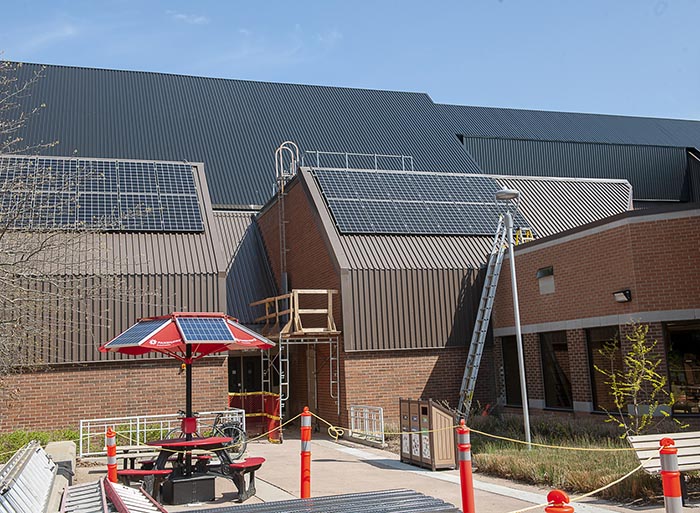 The D Courtyard also features phone charging stations and one solar picnic table where students can plug in their devices to charge, such as phones, tablets and laptops. The tables also have ambient LED lights on timers and push-button activated high-intensity LED lights for use after the sun goes down. Two other tables are located in the SUB courtyard. Currently, Fanshawe is the first in Ontario to use solar picnic tables.
For further information, please contact Corporate Communications.
Information For
Fanshawe's Community Employment Services has received federal funding to provide the Career Launcher program in London, Simcoe, St. Thomas and Aylmer, Ontario.

Due to the ongoing COVID-19 pandemic, Fanshawe College has made the difficult decision to defer all fall 2020 convocation ceremonies.
RT @FanshaweCollege: NEW! A free series of #leadership #seminars on personal and team development. Students who successfully complete 5 wil…
View on Twitter