In 2018, Ayden Miller (keyboard/synthesizer), Stefan Boulineau (lead vocals) and Cole Wilson (lead guitar) formed their band New Friends while working together in the studio of Fanshawe Music Industry Arts program.
After receiving positive reviews with the release of their debut single Purple Candy, they were recipients of Fanshawe's inaugural Music Industry Artist of the Year award in 2019.
Fast forward to a meeting that took place in the Faculty of Creative Industries with Romy Goulem, Dan Brodbeck, Dave Schwartz and Rob Carver that resulted in the greatest on-set experience for our Advanced Filmmaking, Theatre Arts Costume Design students and the band. Dave's cousin Justin Francis, a Los Angeles-based music video director and photographer, was willing to direct a music video for New Friends. Romy knew this was going to be an exceptional learning experience for his students who suddenly were going to have the opportunity to work with a very seasoned, highly respected music video director.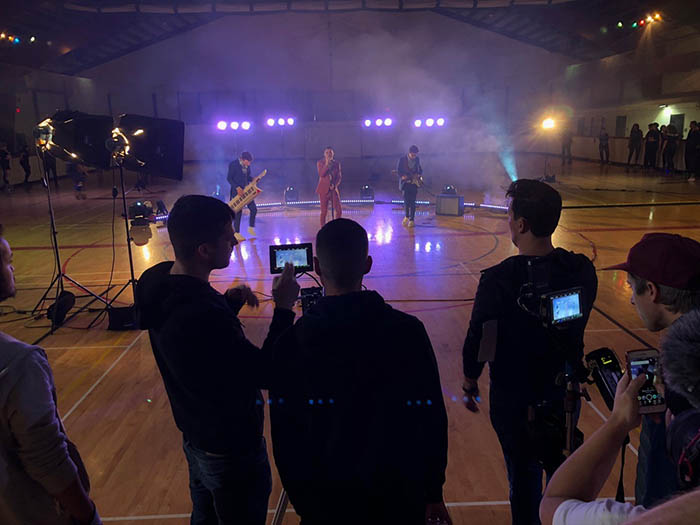 Early in the planning process, Justin made it clear to Romy that he wanted to be more of a mentor to the students - not the director - and the students, his crew. He wanted each of them to have a hand in the creative process of making the video.
New Friends had a concept in mind for the video and were the key creative people in the story development. After some serious brainstorming, the production dates were set. The challenge was how to take an old hockey rink at the Carling Heights Optimist Centre that was used for basketball, volleyball and part time roller rink and turn it into a retro roller skating arena to produce a cool music video that would make the band proud.
As the scale of the project grew, Romy thought a professional director of photography was important and necessary to do justice to Justin's career and reputation. He contacted Kevin Hall, who graduated from the first Advanced Filmmaking program twelve years ago. As a camera assistant on Star Trek (the series), he has many connections in the industry and was able to borrow high-end cameras, lenses and peripheral equipment. He also brought his own assistant, adding a higher level to the professional side of the project and more mentoring for the filmmaking students.
After recognizing the need for a professional assistant director who could manage the set and let the director be creative, Romy contacted Carson Haight who had just moved back to London after several years as an assistant director in Vancouver and Toronto. Carson was on board and took those students who wanted to be assistant film directors under his wing. There was also a group interested in props and décor.
"All of a sudden, we have a professional director, professional director of photography, professional camera assistant," said Romy. "We were moving forward with a project that kept on growing,"
"What started off as a little music video production, turned into an amazing work experience for all of the students who wouldn't see anything like this until their first internship or professional gig," continued Romy. "It turned out to be the biggest, most professional production we've had in the program. We are so grateful to Justin, Kevin and Carson for providing their professionalism and experience to the project. I would also like to thank Dave for the tremendous support of this project. This would never have happened without him."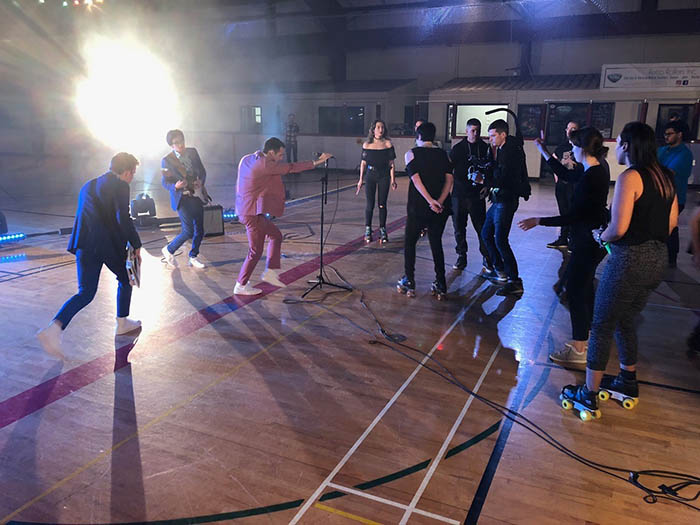 The New Friends music video was released on May 10, 2020, and already has more than 8,000 views.
For more information, please visit Fanshawe's media contact page.
Information For
Fanshawe's Community Employment Services has received federal funding to provide the Career Launcher program in London, Simcoe, St. Thomas and Aylmer, Ontario.

Due to the ongoing COVID-19 pandemic, Fanshawe College has made the difficult decision to defer all fall 2020 convocation ceremonies.
@melishee @Goodwill_OGL @fanshawealumni @melishee @Goodwill_OGL @fanshawealumni Looking great Melissa! #FalconProud
View on Twitter