On Wednesday, June 27, faculty and students from the Schools of Health Sciences and Nursing were proud to host students from Western who are entering their second and third year of medical school, as well as students entering the third and fourth year of the Western-Fanshawe Collaborative BScN program as part of the Western inter-professional surgery school. The purpose of the four-day workshop was for student participants to gain some first-hand insight into the various aspects of surgery through a series of seminars, skills stations and simulations at different sites. The other mandate is to develop teambuilding skills and an appreciation for the roles of the various healthcare practitioners involved in surgery. This is the third year Fanshawe has hosted this event in collaboration with Dr. Marjorie Johnson, Department of Anatomy and Cell Biology and her team of student organizers.
The first two days were spent at CSTAR – a robotic and education centre that is part of London Health Sciences Centre at Western where the students learned basic things such as putting on gloves and gowns, identifying instruments, transferring and handling of patients and a little bit of cauterizing. On Tuesday, the students were at the medical science building where they did some suturing, knot tying and review of the general instruments used during a typical surgery.
On Wednesday, during the Fanshawe portion of the event, the students were instructed in and given the opportunity to practice skills in four specific areas: catheter insertion, IV's, intubation and airway maintenance, and surgical anesthesia induction. The skills stations were facilitated by volunteer faculty from the Nursing and Respiratory Therapy programs, along with volunteer students from the second and third years of the Respiratory Therapy program who instructed and gave feedback to the participants.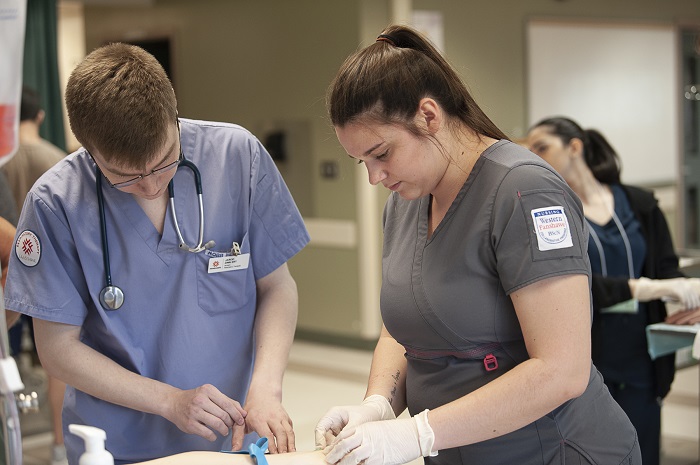 On the final day, the students will put together all the skills they have learned during the three days with a mock surgery on three cadavers at CSTAR. They will be divided into groups of three and will perform different surgeries under the direction of a surgeon and operating room nurses.
"This event is another fantastic example of the benefits of inter-professional education in its many forms and the limitless potential of a collaborative approach to education and in particular, it provides an early opportunity for our future healthcare practitioners to recognize the essential roles played by one another," said Fanshawe professor Gary Sullivan. "I have been involved in numerous educational exercises and events during my years at Fanshawe College, some on a relatively small scale, such as this one as well, as others involving hundreds of volunteers and participants, but what make them all possible and successful is the sincere commitment to student-centered education exhibited by our faculty, students and educational partners.  I am proud to work with such an amazing group."