Fanshawe pilot program helps develop entrepreneurship skills for those new to Canada
Alaa Senjab, a graduate from Fanshawe's Occupation-specific Language Training (OSLT) program, will open his first restaurant, the Burger Factory, located at 2-580 Fanshawe Park Road, London, ON, on Friday, January 24, 2020 at 5 p.m.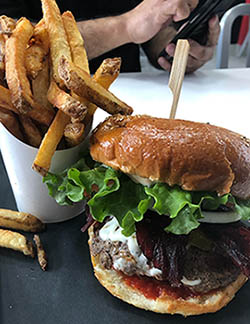 Senjab, a pharmacist, moved to Canada a year ago. He worked hard to understand Canadian culture and improve his workplace communication skills and knowledge while taking the program in the fall of 2019. The pilot project delivered free language support training for newcomers to Canada and focused on developing entrepreneurship skills, as well as how to launch and operate a successful small business.
Senjab wants to add value to the community by providing healthy food and contribute to the economy by providing jobs for Londoners.
"Access Studies Fanshawe College is proud of Alaa's hard work and dedication. He appreciates and respects Canadian culture and the opportunities it presents while working hard to grow personally and professionally through the settlement process," says Rick Townend, academic advisor in the School of Access Studies and Regional Delivery.
What: Grand opening of the Burger Factory
Where: 2-580 Fanshawe Park Road, London
When: Friday, January 24, 2020 at 5 p.m.
Note: The first 50 meals are free, then prices are 50 per cent off for the following three days.
For further information, please visit Fanshawe's media contact page.