At Fanshawe, everyone is welcome.
Fanshawe College values diversity. It's essential to our mission of providing pathways to success, an exceptional learning experience and a global outlook to meet student and employer needs. We respect the diverse identities and expressions that make up our community, and we believe everybody is entitled to feel safe and respected on campus and have free and equal access to everything offered at Fanshawe.
We value the contributions of students and employees who may identify as lesbian, gay, bisexual, trans*, queer, questioning and two-spirited (LGBTQ2+) along with allied members of our campuses and surrounding communities.
Rainbow, Pride and LGBTQ2+ celebrations
The College is proud to support the annual Pride London Festival as a Platinum level sponsor and a participant in the annual Pride London Parade.
(Please note: Due to uncertainty surrounding public events in light of the COVID-19 pandemic, we are not yet aware of plans for regional Pride celebrations in 2020.)
Transgender/Trans+ Day of Visibility
March 31 is International Transgender Day of Visibility (TDOV) and Fanshawe is proud to be an ally!
This day is dedicated to celebrating trans+ people and raising awareness of discrimination faced by trans+ people worldwide, as well as a celebration of their contributions to society. TDOV was founded in 2009 by licensed therapist and transgender activist Rachel Crandall, who created the day as a reaction to the lack of LGBT2Q holidays celebrating trans+ people's successes.
Fanshawe College strives to be a welcoming community, where everyone can express themselves unapologetically without shame or persecution.
Pride flag raising
Each year, Fanshawe students and staff help to kick off the College's participation in Pride festivities within each of our communities, including by raising a rainbow flag on campus, where facilities permit. We invite all members of the Fanshawe family and community partners to join us and celebrate raising the pride flag in London at 1001 Fanshawe College Boulevard, in Woodstock at 369 Finkle Street and in St. Thomas at 120 Bill Martyn Parkway. We invite students in Norfolk County and in Huron and Bruce Counties to follow our social media sites for up-to-date information about our involvement with community Pride activities.
"The College is proud to support Pride events being held throughout the region," says President Devlin. "We're always happy to celebrate the diverse and inclusive environment we have at Fanshawe."
Since its debut in San Francisco in 1978, the rainbow flag has been a symbol of lesbian, gay, bisexual, transgender pride and LGBTQ2+ social movements. This flag is a reminder of the significance of embracing love and equality, while taking a stand against hate and intolerance. Events like the rainbow flag raising and other Pride festivities can help students feel less marginalized. They demonstrate that as a College, we care.

ABOVE: Fanshawe College President Peter Devlin (front row, left of flag) and Fanshawe Student Union Vice-President Andrew Waterworth hold the rainbow flag just before raising it on the Fanshawe flagpole in London on July 19, 2018.
Pride parade
Employees, students, alumni, family and friends are invited to participate in the annual London Pride Parade each July. If you would like to march with Fanshawe to show your support for London's rainbow community and allies, please watch our social media channels, student emails or staff intranet (myFanshawe portal) for the registration link. Registration is optional, but helps us plan appropriately – PLUS anyone who registers ahead of time will receive a free Fanshawe Pride t-shirt at the parade!
We hope to see you there!
Rainbow crosswalk (London Campus)
Fanshawe College kicked off Pride celebrations in 2017 with the installation of a rainbow crosswalk at 1001 Fanshawe College Blvd. The rainbow crosswalk is a year-round signal of the inclusive and supportive environment for all students, staff and visitors regardless of sexual orientation or gender identity. The College renewed the rainbow-coloured paint on its commemorative crosswalk in July 2018.
Location: Crosswalk between Student Wellness Centre (J Building) and parking lot 6, London Campus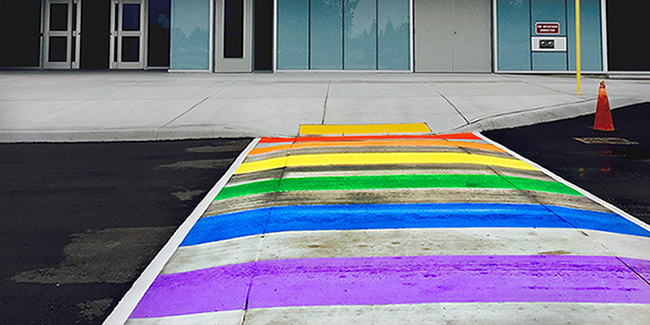 Pride on campus
Positive Space
The Positive Space group is dedicated to keeping Fanshawe College a diverse and inclusive environment. In addition to offering events, resources and support to students or employees who identify as LGBTQ2+, Positive Space provides ally training sessions for faculty and staff, Residence Assistants and other student groups.
www.fanshawec.ca/positivespace
Spectrum Fanshawe
Spectrum Fanshawe is a student-run social and advocacy group for LGBTQ2+ identified individuals and allies, sponsored by the Fanshawe Student Union. Spectrum regularly hosts discussion nights and information sessions with guest speakers, movie nights, coffeehouses and other social events, as well as encouraging student participation in community events like the AIDS Walk for Life in September and the Rainbow Revolution in October, a collaborative event with Western University.
www.facebook.com/spectrumfanshawec
Preferred name and name changes
At Fanshawe, we recognize that some of our students use names other than their legal names to identify themselves. We may allow students to use preferred names on certain records. Please contact records@fanshawec.ca to learn more about the options available to you and what you need to do to change your preferred name.
*Please note that changing your preferred name for certain records does not change your legal name with Fanshawe College or with other agencies that interact with Fanshawe (for example, ontariocolleges.ca application service or OSAP and student loans).