Olympic hero Silken Laumann applauds Fanshawe's focus on wellness
As Fanshawe celebrates its 50th anniversary this September, many exciting plans are unfolding. Continuing its motivating REDTALKS lecture series, the College welcomes Olympic rower Silken Laumann to share her inspirational story of triumph over adversity, while swinging open its doors to a state-of-the-art Student Wellness Centre offering a comprehensive suite of wellness services.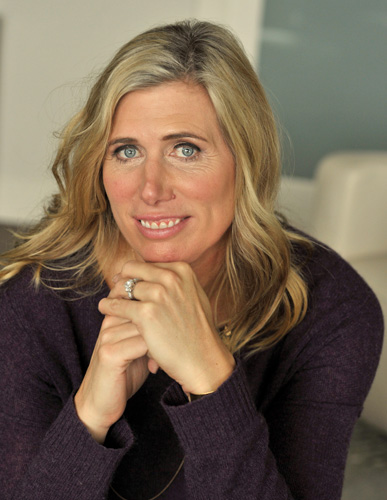 Olympian and wellness advocate Silken Laumann - Photo courtesy of Beth Hayhurst
Laumann, who is best known as a world champion who fought back from a devastating rowing accident to win a bronze medal in the 1992 Summer Olympics, is heartened by Fanshawe's focus on wellness. Today, as a mental health advocate, she appreciates life balance and shares her personal experience so others can benefit, "I want to help people live better lives, to see their own potential and understand that a magical life is possible for each of us."
In her presentation entitled Becoming Unsinkable, Laumann shines a spotlight on many obstacles she encountered, and overcame - both in her athletic life, and throughout intense personal challenges. And, she applauds Fanshawe's proactive new wellness programming for the thousands of students launching a new school year. "We all experience fear and doubt, yet with support, courage, perseverance and a sense of humour - the human spirit prevails, and this Centre will serve students well."
Fanshawe Wellness Director Jodi Anderson-Carson concurs, and notes the new Centre's strategic direction delivers supportive options for wellbeing on four fronts – physical, intellectual, emotional and spiritual. "As a wellness hub, ours is a safe, welcoming environment for someone to take a break, reduce stress, get mentally prepared, find friends and make positive lifestyle changes. Beyond a fabulous physical fitness space, our expanded programming meets much broader human needs."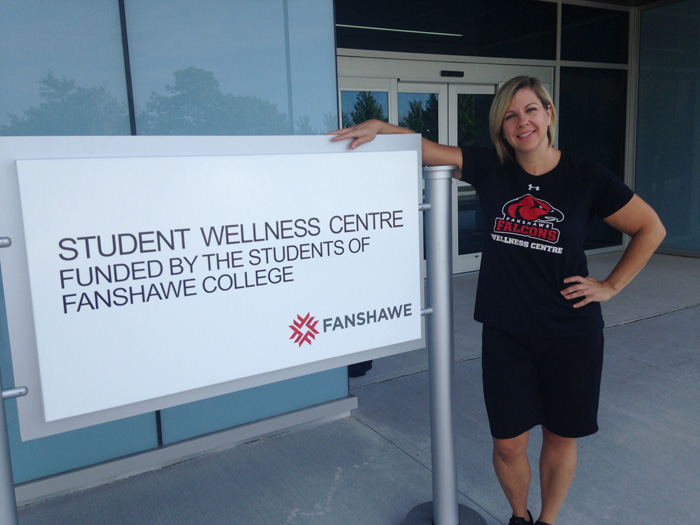 Wellness Director Jodi Anderson-Carson
As a unique and innovative campus resource, the remarkable three-floor Wellness Centre is made possible through a funding partnership with the Fanshawe Student Union, and incorporates all campus athletics programming and significant space for a spectrum of health services. In addition to flexible fitness areas for strength training, cardio, group exercise rooms and a climbing wall, the building houses quiet rooms, massage therapy, yoga, meditation and other wellness services to help students deal with stress.
According to Anderson-Carson, the new Centre enables Fanshawe to change the conversation from solely physical fitness to a holistic approach extending to emotional, intellectual and spiritual dimensions. "To me, wellness means being happy with one's own physical, mental and social wellbeing. If a person is "well," he or she can really feel the excitement in life, and the world around them. By striving to create balance in all these areas, that person moves towards being "well" and is better prepared to cope with day-to-day life and the stresses that might come with that."
As a further measure of support for students as Fanshawe marks its 50 years of educational excellence, the Wellness Centre team is collaborating with the College's Counselling and Accessibility Services to encourage a personal wellness plan for every student. Using a web-based Passport to Wellness, participants are invited to choose from a variety of activities across the four dimensions of wellness – gaining both life balance and school credits in the process. A fine strategy indeed! 
For more information, visit www.fanshawec.ca/student-life/student-wellness-centre or check out Silken Laumann's memoir Unsinkable: My Untold Story.
Wellness Wheel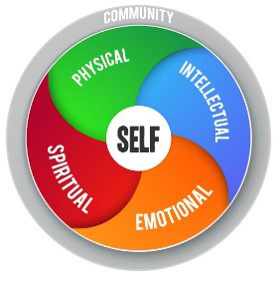 Physical wellness fulfils a healthy quality of life by living responsibly and taking care of one's body to promote wellbeing.
Intellectual wellness engages in stimulating scholastic, cultural and community activities to encourage creative mental growth.
Emotional wellness explores one's inner self, reduces stress and maintains a positive outlook through acceptance and understanding.
Spiritual wellness supports mental health and develops the mind-body connection to foster peace of mind and personal growth.
For further information about Fanshawe College, please contact Corporate Communications.