The Kalihwíy̲o̲ Circle

Fanshawe's Institute for Indigenous Learning will be a focal point for Indigenous students and communities to engage in research, innovation, experiential and digital learning and social entrepreneurship. The Kalihwíy̲o̲ Circle within Innovation Village will provide a welcoming space for Indigenous students while also being available to all students. The space will host workshops, summer camps, exhibitions, gatherings, smudging, pipe ceremonies, land-based learning and other events. Kalihwíy̲o̲ is an Oneida word meaning 'good message.'
Click here to listen to an audio sample to hear how Kalihwíy̲o̲ is pronounced, courtesy of Oneida Language & Cultural Centre's "Oneida Words and Phrases" site at oneidalanguage.ca/learn-our-language/oneidalanguage-words-phrases.
The Kalihwíy̲o̲ Circle is a showpiece and gathering place nestled in the Learning Commons of the Innovation Village and is a tribute to Indigenous stories, ways of being and beliefs. As a result, much thought was given to the architectural integration of these Indigenous beliefs.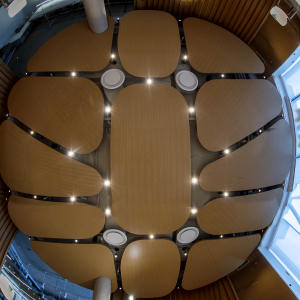 The turtle is a sacred figure to the Original Peoples of Canada, as it represents Mother Earth. To most Indigenous peoples, the turtle also represents healing, wisdom, spirituality, health, safety, longevity, protection and fertility. The ceiling of the assembly space is shaped like the shell of a turtle. Many teachings of the Original Peoples use the back of a turtle's shell as a lunar calendar. The 13 curved segments of the shell represent the 13 moons, one for each month and one additional every two to three years called the blue moon.
The moon circles around the earth in approximately 28 days which is reflected in the 28 sections of the terrazzo floor within the assembly representing half female, half male. The assembly is circular in shape, reflective of learning circles with curved glass panels and sliding walls and special attention given to the acoustic treatments.
A folding exterior glazed wall opens to the outdoors, making the connection to nature immediate. This connection to nature and the natural elements are representative of the Indigenous concept of interconnectedness, of all our relations, the land, animals, plants and people.