At Fanshawe, you can be you
Fanshawe College embraces and supports members of 2SLGBTQIA+ community. We value  the diverse sexual and gender identities and expressions that make up our community, and everybody is entitled to feel safe and respected on campus and have free and equal access to everything offered at Fanshawe.
We value the contributions of students and employees who identify as two-spirit, lesbian, gay, bisexual, trans, queer, intersex and asexual or agender. ( 2SLGBTQIA+). We also support students and employees who are exploring or questioning their sexual and gender identities. The 2SLGBTQIA+ community at Fanshawe recognizes the contributions of allies committed to dismantling homophobia, transphobia and queerphobia in our communities.  
Pride at Fanshawe is intersectional. The 2SLGBTQIA+ community is wonderfully diverse, and every member of the community has their own experiences. Pride would not exist without the leadership of Black and Latina transgender women who broke down barriers and paved a path for 2SLGBTQIA+ inclusion and acceptance. Today, we continue to recognize those pathbreakers by honouring and recognizing the unique experience of 2SLGBTQIA+ folks who identify with more than one equity-deserving identity. 
Rainbow, Pride and 2SLGBTQ2+ celebrations
Fanshawe College sponsors and participates annually in local Pride events and initiatives. Due to uncertainty surrounding public events in light of the COVID-19 pandemic, regional Pride celebrations look a bit different right now. To stay in touch with Pride London, visit www.pridelondonnetwork.com to stream local 2SLGBTQIA+ content and learn more about interactive events throughout the year.
Transgender/Trans+ Days of Remembrance and Visibility
March 31 is International Transgender Day of Visibility (TDOV) and November 20 is International Transgender Day of Remembrance On these days and throughout the year, Fanshawe celebrates and supports trans and gender diverse members of our communities. Fanshawe honours and remembers the lives of trans and gender diverse folks impacted by transphobic violence, particularly the disproportionate violence experienced by trans women of colour
Pride flag raising
Each year, Fanshawe students and staff help to kick off the College's participation in Pride festivities within each of our communities, including by raising a Progress Pride flag in London at 1001 Fanshawe College Boulevard, in Woodstock at 369 Finkle Street and in St. Thomas at 120 Bill Martyn Parkway. We invite students in Norfolk County and in Huron and Bruce Counties to follow our social media sites for up-to-date information about our involvement with community Pride activities.
Rainbow crosswalk (London Campus)
Fanshawe College has installed a rainbow crosswalk at 1001 Fanshawe College Blvd. as a year-round signal of the inclusive and supportive environment for all students, staff and visitors, especially our sexually and gender diverse community members
Location: Crosswalk between Student Wellness Centre (J Building) and parking lot 6, London Campus.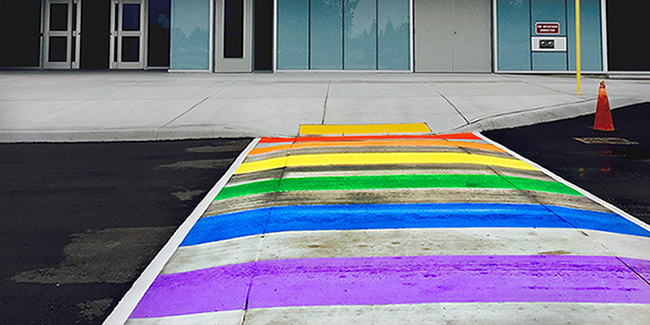 Pride on campus
Positive Space
The Positive Space group is dedicated to keeping Fanshawe College a diverse and inclusive environment. We conduct ally training sessions throughout the year for faculty and staff, host events and work with the student groups to ensure a respectful environment is maintained. We welcome the opportunity to promote events both on and off campus that promote a safe space throughout the community. 
View our Positive Space Resources
Positive Space has a group of dedicated individuals working to educate all our Fanshawe campuses. Please contact us by email and we will route your inquiry to the best person to answer your inquiry. If you are a student you can also contact the student group by visiting www.fsu.ca/clubs
Spectrum Fanshawe
Spectrum Fanshawe is a student-run social and advocacy group for 2SLGBTQIA++ identified individuals and allies, sponsored by the Fanshawe Student Union. Spectrum regularly hosts discussion nights and information sessions with guest speakers, movie nights, coffeehouses and other social events, as well as encouraging student participation in community events like the AIDS Walk for Life in September and the Rainbow Revolution in October, a collaborative event with Western University
Identified name and name changes
At Fanshawe, we recognize that some of our students use names other than their legal names to identify themselves. We enable students to use identified names on certain records. Please contact records@fanshawec.ca to learn more about the options available to you and what you need to do to change your preferred name.
*Please note that changing your identified name for certain records does not change your legal name with Fanshawe College or with other agencies that interact with Fanshawe (for example, ontariocolleges.ca application service or OSAP and student loans).
Queer As Folk course
When professor and classroom availability permit, Fanshawe occasionally offers INDS-1077, as a general education elective course focused on representations of sexual desire and gender identity in popular culture, laws and politics. To learn more, visit the general education elective page and select your credential to view if the course is available during the upcoming term. 
Pride Understanding multimedia supports
Students in the School of Contemporary Media have worked with M. I. Productions and Angus Puppets to help create education content for Pride Understanding, a series of multimedia communication tools designed to guide conversations, increase empathy and understanding and decrease stigma around gender and sexual diversity.
Learn more about Fanshawe's commitment to equity, diversity, inclusion (EDI) and anti-oppression