THIS IS FANSHAWE
The Fanshawe experience delivers career-focused, quality programming through flexible pathways to support your individual career goals and life success. Our unique learning environment sets students up for success beyond the classroom.
Powerful Post-Graduate Results
Graduation Rate
65.1%
Percent of full-time students who entered a program of instruction in an enrolment year and graduated within a specified period of time.
Provincial Average: 65.1%
Graduate Satisfaction
75.0%
Percent of graduate satisfaction six months after graduation with the usefulness of their college education in achieving post-graduate goals.
Provincial Average: 75.4%
Employment Rate
86.7%
Percent of graduates that are successful in finding employment within six months of graduating.
Provincial Average: 83.4%
Our History
Est. 1967
Fanshawe is one of the largest colleges in Canada, with campuses in London, Simcoe, St. Thomas, and Woodstock, with additional locations across Southwestern Ontario. Fanshawe has approximately 43,000 students and provides over 200 higher education programs.

Fanshawe offers a wide range of full-time and part-time programs so you can learn at your own pace. With apprenticeships, certificates, diplomas, both degrees and advanced degrees, and continuing education programs, students gain the skills necessary for success beyond the classroom.

Discover your pathway options to a career and learn about the types of programs we offer.
Are you ready to choose Fanshawe?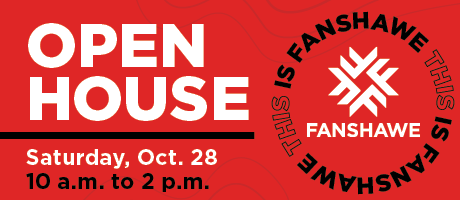 Join Us for Open House
Find out if Fanshawe is the right fit for you at Open House. Explore Fanshawe's campuses, meet faculty and current students, and ask your questions about starting college.
Register for Open House