Campuses Designed For You
Fanshawe offers programs across 3 unique London, Ontario campuses, each highlighting unique features to support your learning journey. Whether at the flagship London Campus, the London Downtown Campus, or the London South Campus, take advantage of Fanshawe campus life with state-of-the-art facilities and social hubs to connect with your peers.
Can't make it to London? Select Fanshawe programs are available outside of London. Explore Fanshawe's regional site locations to find campus locations near you, or browse Fanshawe's online programs.
Life as a Fanshawe Falcon
Student Wellness
We equip students with the resources needed to maintain mental and physical health year-round. Rewarding recreational programs, counselling, and pharmacy services can be accessed through the Student Wellness Centre.
 
Explore Fanshawe's Student Wellness programs and services.
Food on Campus
Fuel your study session with a quick coffee from Starbucks or Tim Hortons, or fill up with a healthy meal from your favourite on-campus restaurant. Available to all students, meal plan or not, find food from brands you love across the entire London Campus.
 
Browse places to eat or learn more about FANCard meal plans.
Tour Fanshawe's Campus
Explore Fanshawe's London and regional locations through an in-person staff and student run tour.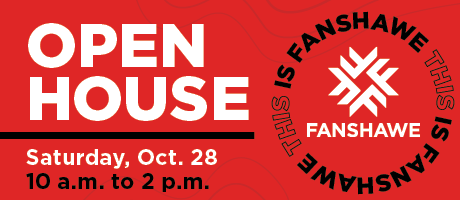 Join Us for Open House
Find out if Fanshawe is the right fit for you at Open House. Explore Fanshawe's campuses, meet faculty and current students, and ask your questions about starting college.
Register for Open House