Advance your career with a post-graduate program from Fanshawe
Today's job market is highly competitive and employers are looking for people who are skilled, professional and prepared to hit the ground running. Adding a post-graduate certificate or diploma to your resumé can help you stand out in the crowd. Our post-graduate programs, including graduate certificates, fast track and advanced diplomas, continuing education (CE) and part-time studies, are designed to leverage your existing college or university education with specialized, employable skills to help you launch your dream career.
This is Specialization
"Taking the Customer Relationship Marketing & Sales Management graduate certificate at Fanshawe College provided me with skills and experience in using digital tools and software that I was unfamiliar with and that employers were asking for. I noticed the gap and discovered that this program would provide me with exactly what I needed to move forward in my sales and marketing career. Not only did I gain the skills I needed, but I also landed a job doing exactly what I learned in the program before I even graduated. I highly recommend taking a graduate certificate to specialize in skills that are in high demand by employers!"
Tyler W., Fanshawe Graduate
Choose from 50+ post-graduate program options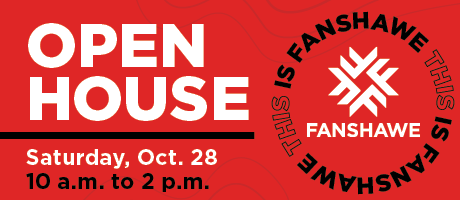 Join Us for Open House
Find out if Fanshawe is the right fit for you at Open House. Explore Fanshawe's campuses, meet faculty and current students, and ask your questions about starting college.
Register for Open House