About Apprenticeships
In today's global marketplace, there is an increasing demand for skilled trades. Our skilled trade and apprenticeship training provides you with the in-school and hands-on experience you need to become a successful tradesperson. At Fanshawe, we pride ourselves in providing many academic pathways to ensure our students are able to achieve their goals.
Skilled trades are for people who enjoy working with their hands and seeing their passion come to life. There are 156 skilled trades in Ontario in four sectors: Construction, Industrial, Motive Power and Service.
Apprenticeships are employment-based training for people seeking a career in a skilled trade. Apprentices are paid while they work and their wages increase as they progress through their apprenticeship training.
Why Fanshawe
40+ skilled trade and apprenticeship programs offered
Small class sizes and hands-on learning
Workplace-based training with experienced skilled trade workers
Full-time, part-time, block release, day release or online delivery
Academic pathways that lead to apprenticeship
Employers
Canadian Apprenticeship Forum released findings from a study of the cost-benefit analysis of apprenticeship training in 15 trade areas. On average, for each $1 invested in an apprentice, a benefit of $1.47 accrues to employers for a net return of $0.47.
Current Apprentice Students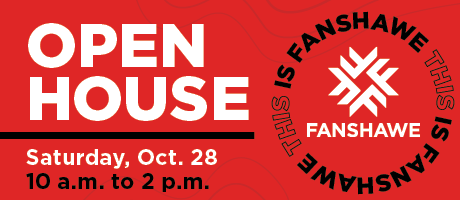 Join Us for Open House
Find out if Fanshawe is the right fit for you at Open House. Explore Fanshawe's campuses, meet faculty and current students, and ask your questions about starting college.