Jeremiah Mason
Image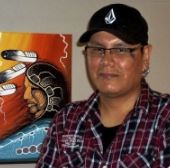 Jeremiah Mason is an Oji-cree artist from Kee-way-win First Nation; a remote fly-in community located in Northwestern Ontario. Jeremiah is from the Mason/Kakepetum family and is of Wolf Clan descent. He currently resides in London, ON. Jeremiah is a self-taught artist who paints in the Woodland Style of Native artwork. His work is also based strongly on his visions and the spiritual connection he has to his culture. Much of his work tells stories of wisdom, strength, courage, healing, family and love.
Follow Jeremiah on twitter to stay up to date with all his new material @JMasonArtwork.
Amanda Myers
Image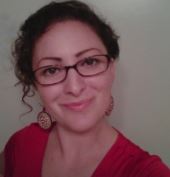 Amanda Myers also goes by the name Keewaydin Bizhikikwe; she is Anishinaabe/Métis from southern Ontario.
Amanda is a professional artist and metal smith who has recently completed her undergraduate degree at Western University and will attend Western Education in September 2012 for a Bachelor of Education degree.
Amanda paints primarily in acrylic on canvas, works in stained glass, leather and beadwork, and fabricates jewellery in silver and gold. The inspiration for all the work that Amanda creates comes from her culture and her daily life experiences.
Moses Lunham
Image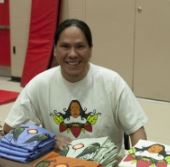 Moses Lunham is a First Nations artist (Ojibway) from the community of Kettle and Stony Point First Nation. He draws upon his heritage for inspiration. "When I was young, my parents would teach me many traditional First Nations arts and crafts. We would then travel to many pow wows in southwestern Ontario and Michigan to exhibit our work."
Throughout his schooling, Moses honed his skill and creativity and was recognized as an artist at an early age. Moses decided to study graphic arts at Fanshawe College (London) and graduated in 1990. He worked in the graphic arts field for 10 years.
It was during this time, Moses decided to reconnect with his culture and rediscover his passion for painting. "I wanted to refocus my energy in a positive way. What better way than by learning about your culture and interpreting it through your art."
Moses has exhibited his work in a few group and solo shows in the Sarnia and London regions. As well, Moses still follows the pow wow trail throughout the summer months with his art."My work is a reflection of my people (Anishnaabe), their spirituality and ideology."
Follow Moses on facebook by searching Moses Art.
Clayton King
Image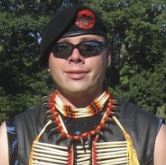 Waab-shki-makoons is an Anishinaabe artist and is a member of Chi-mnissing (Beausoleil First Nation). He graduated from Fanshawe College in 2010 with a Fine Art advanced diploma. He was raised as an urban First Nations person in the neighbourhood of Port Weller, in the city of St. Catharines, Ontario. Growing up along the Welland Canal on the southwestern shore of Lake Ontario and the sublime nature that surrounded him inspired Waab-shki-makoons to start creating art at a young age. The spirituality, history, culture and oral teachings of First Nations people around the Great Lakes basin are what motivate his creativity as a contemporary artist.