Choose the right college program for you
Tuesday, July 30, 2019
Image
Image
Choosing the right college program can be hard. There are so many programs to choose from and it can be hard to know which one will lead to the career that you want. In this video, Fanshawe College alumni Maria takes you through the steps she used to find the perfect college program for her. 
Video transcription
Hey guys, it's Maria from Fanshawe, and I want to share my experience choosing a college program, and give you a few tips and resources to help you with your decision! Finding the right college program for your goals, interests and learning style can be a struggle. For me, it seemed like there were endless options and it was really overwhelming.
Where to start
If you don't know where to start, try asking yourself a few questions:
Is there a dream you wish you could turn into a day job?
What sort of lifestyle do you picture? 9-5 or freelance? In an office or on your feet?
Which high school classes were you most interested in?
Once you ask yourself these questions, Fanshawe has a free online tool to help you narrow your interests into possible careers. This is where you pause this video to take the Pathfinder Quiz now!

Choose a path   
Now that you've taken the quiz, you'll see a list of possible career options. Let's break down the credentials you're choosing from. 
The most accessible programs are one-year certificates. The majority of college programs are diplomas, which are typically 2 to 3 years full time (and some colleges, like Fanshawe, offer part-time options). Colleges also offer degrees - just like universities, but with smaller class sizes and hands-on learning opportunities. 
If you've already gone to college or university, graduate certificates are one-year programs that are highly career-focused so you can be job-ready when you graduate.
If these options don't quite fit, some colleges offer more generic programs that allow you to explore your interests while preparing you for further post-secondary studies - if that's where your path leads you.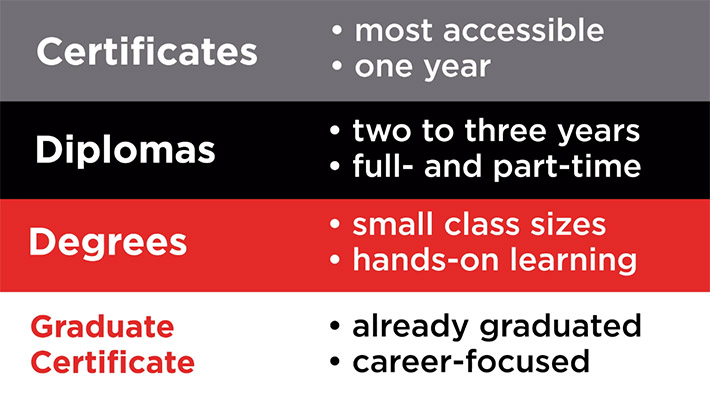 It's all about the best fit for you
It's all about finding the best fit for you. Many programs at Fanshawe even offer multiple start dates throughout the year, as well as flexible learning options. Check out the full list online.