Applying for part-time post-secondary study
Before selecting courses, you need to apply, have your transcripts assessed and be offered admission. Depending on the time it takes to receive your transcripts, this process may take as few as four days.
Start your application now at 

ontariocolleges.ca.
Accept your offer of admission at ontariocolleges.ca.
Pay your $250 non-refundable deposit for each term by the due date (see important dates below).
Important dates
|   | Summer 2021 term | Fall 2021 term |
| --- | --- | --- |
| Non-refundable deposit due date | March 18, 2021 | June 15, 2021 |
| Registration opens | April 15, 2021 | August 9, 2021 |
| First day of term | May 3, 2021 | September 7, 2021 |
| Registration closes (5th day of term) | May 7, 2021 | September 14, 2021 |
| Balance of fees due by 10th day of the term | May 14, 2021 | September 20, 2021 |

Course registration
How to register for courses

 

Self registration is now available online - please do not use the Continuing Education registration link.

Review the course requirements and availability for each program listed above. Choose your courses early for the best selection!
In WebAdvisor, select My Progress to review and confirm the courses you need to complete your program. Don't forget to review your General Education requirements (one General Education elective course is equal to 3 credits).
In WebAdvisor, follow the registration steps by using:

Express Registration if you know the course, section and term of the course(s) you have chosen;
Register and Drop Sections if you want to drop a course you previously registered in using WebAdvisor, or to complete a course selection for a course you previously viewed.

NOTE: Your selection is not complete until the course appears (or is removed in the case of a Drop) from your timetable and My Progress on WebAdvisor. You can only drop courses that were selected using WebAdvisor. For assistance with other courses, please refer to your School office.

TIP: Having trouble with the process? Read the 'Help' section at the top of each page for more information.

 
How to drop a course or withdraw from your program

 

To drop individual courses (before the 10th day of the term):

Go to WebAdvisor.
Click 'Register and Drop Courses' and follow the steps to make your changes.

To drop individual courses (after the 10th day of the term):

Contact the SIS designate in your school office. They can provide you with a verification form and drop the course for you.

To withdraw from your entire program, follow our withdrawal steps.

Important notes:

You can only drop courses that were selected using WebAdvisor. For assistance with other courses, please refer to your program office.
Dropping a course (or courses) may impact your OSAP entitlement. Please contact the Financial Aid Office (E2020) for more information.
Dropping courses will impact your progression toward graduation. It is your responsibility to ensure you meet your program requirements to graduate. View My Progress on WebAdvisor for information about your program and any outstanding requirements.
Academic Advising is available in your program office. Please make an appointment with your Program Coordinator or Student Success Advisor if you need assistance.

 
How to access your online course(s)

 

If you have questions about learning online, please contact your school's eLearning coordinator. 

Please note that the course materials will be available on the first day of class via the learning management system at www.fanshaweonline.ca.

Visit www.fanshawec.ca/onlinetools to learn more about how to use FanshaweOnline (FOL) and WebAdvisor.
Helpful resources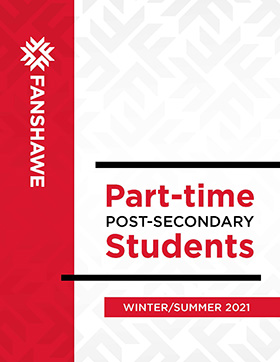 Part-time post-secondary students booklet
Online student success
We want to help you succeed. If you choose to study a program online, check out our online learning page for helpful information, or visit amiready.ca to assess your online learning readiness. If you have program/course-specific questions, please contact your Student Success Advisor for help.
Planning ahead just got easier
Students offered admission to part-time post-secondary programs register for classes on a course-by-course basis. To assist students with planning, course sequences have been mapped out for future terms. Students can take up to a maximum of 3 courses per term as a part-time student. Current students who wish to transfer to the full-time program should complete a program transfer form at fanshawec.ca/registrar/forms. Check out which courses are offered each term for the programs below:
Part-time certificate program:
Office Administration - General - OAG1
Part-time diploma programs:
Business - Human Resources - BHR1
Office Administration - Executive - OAE3
Part-time graduate certificate programs:
Geographic Information Systems (GIS) - GIS1
Human Resources Management - HMG1
Information Security Management - ISM1
Marketing Management - MKM1Operations Management - OPM2
Professional Financial Services - FSP1
Research and Evaluation (Co-op) - RES2
Retirement Residence Management - RRM1
Supply Chain Management - Logistics - SCM2
Part-time degree completion programs:
Honours Bachelor of Commerce (Accounting) - BCA1
Honours Bachelor of Commerce (Digital Marketing) - BDM1
Honours Bachelor of Commerce (Human Resources Management) - BHM1
Honours Bachelor of Commerce (Management) - BCM1
Looking for more details about specific courses? You can request full course outlines through our COMMS system. Some programs require students to write a WRIT assessment. Please visit fanshawec.ca/writ for more information and available test dates.