Welcome to Fanshawe orientation!
At Fanshawe we care about your success. We want you to finish well, and that requires us to help you start strong. That's why we've mapped out a one-day orientation on January 19, 2018, to start your first year off right!
Here's what you need to know:
Program orientation
This is your chance to meet classmates, instructors and get the scoop on what to expect as you start your program. Attending this will give you a great start academically. It will help understand the expectations faculty have of you and answer most of your questions.
Generally, program orientations will happen between 11:00 a.m. and 1:00 p.m. or 1:30 to 3:30 p.m. on January 19, 2018.
Huron/Bruce Orientation Sessions
Simcoe and Woodstock Orientation Sessions
Details for orientation at St. Thomas campus will be communicated soon.
Plan the rest of your orientation day!
Our one-day orientation is designed with flexibility in mind. Whether you have a program orientation or not, we've created a day that allows you to check a few items off your list, while you explore the campus:
Parking / directions
Parking is complimentary in lots 5 and 8 at the London Campus on January 19, 2018, for our one-day orientation. Parking is free at all regional campus locations and sites.
Locations and maps to our campuses: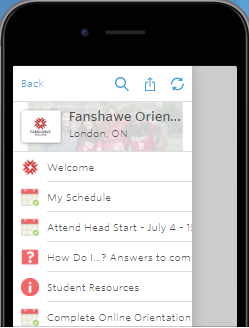 Download the Fanshawe orientation app to help plan your day!
Click here for details.
Online orientation
We've put together an online orientation that is essential to watch before you get here. Simply log in to your FanshaweOnline account and look for the "Fanshawe Orientation Course - Student Success" link under "My Courses". This content will be available to you about one month before classes start.
*Not sure how to log in to FanshaweOnline (FOL)? Click here.
Can't find your username/password? Click the "Login Help" link at the top of the FOL log-in page.
What else can I do before start of term?
There are lots of things you can do before orientation day! Our staff are happy to help you: