At Fanshawe, everyone is welcome.
Fanshawe College values diversity. It's essential to our mission of providing pathways to success, an exceptional learning experience and a global outlook to meet student and employer needs. We respect the diverse identities and expressions that make up our community, and we believe everybody is entitled to feel safe and respected on campus and have free and equal access to everything offered at Fanshawe.
We value the contributions of students and employees who may identify as lesbian, gay, bisexual, trans*, queer, questioning and two-spirited (LBGTQ2+) along with allied members of our campuses and surrounding communities.
Pride celebrations
The College is proud to support the annual Pride London Festival, taking place July 19-29, 2018.
Pride flag raising
London Campus students and staff kicked off Fanshawe's participation in Pride London with a flag raising on Thursday, July 19. Approximately 50 people gathered to celebrate with President Peter Devlin and FSU student life coordinator Andrew Waterworth as they raised the pride flag at 1001 Fanshawe College Boulevard, in front of F building.
"The College is proud to support Pride London events being held throughout the city," said President Devlin in his remarks to the crowd. "We're always happy to celebrate the diverse and inclusive environment we have at Fanshawe."
Since its debut in San Francisco in 1978, this flag has been a symbol of lesbian, gay, bisexual, transgender pride and LGBTQ social movements. This flag is a reminder of the significance of embracing love and equality.
"The Fanshawe Student Union congratulates Fanshawe for flying the Pride flag this month," said Waterworth. "This flag reminds us of the significance of embracing love and equality, while taking a stand against hate and intolerance. Events like this can help students feel less marginalized. It demonstrates that as a College, we care."

Pride parade
Employees, students, alumni, family and friends are invited to participate in the 24th annual London Pride Parade on Sunday, July 29. March with Fanshawe to show your support for London's rainbow community and allies!
When: Sunday, July 29 beginning at 12:30 p.m.
Location: Queens Avenue, beginning on Ontario Street proceeding to Victoria Park (Formation for this year's parade will take place at the lot of the Western Fair District Raceway).
Registration: If you would like to march with Fanshawe in the Pride Parade, please register online at https://conference.fanshawec.ca/PRIDE2018 to let us know you're coming. Registration is optional, but helps us plan appropriately – PLUS anyone who registers ahead of time will receive a free Fanshawe Pride t-shirt at the parade!
We hope to see you there!
Rainbow crosswalk (London Campus)
Fanshawe College kicked off Pride celebrations in 2017 with the installation of a rainbow crosswalk at 1001 Fanshawe College Blvd. The rainbow crosswalk is a year-round signal of the inclusive and supportive environment for all students, staff and visitors regardless of sexual orientation or gender identity. The College renewed the rainbow-coloured paint on its commemorative crosswalk in July 2018.
Location: Crosswalk between Student Wellness Centre (J Building) and parking lot 6, London Campus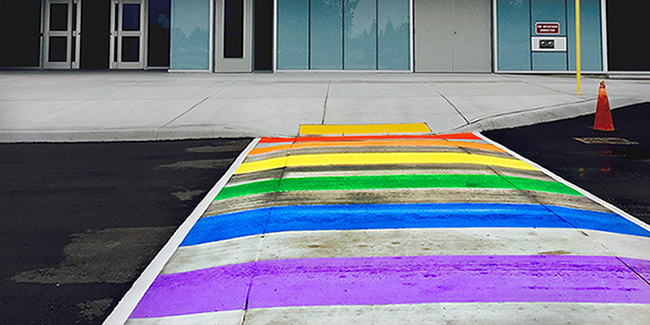 Pride on campus
Positive Space
The Positive Space group is dedicated to keeping Fanshawe College a diverse and inclusive environment. In addition to offering events, resources and support to students or employees who identify as LGBTQ2+, Positive Space provides ally training sessions for faculty and staff, Residence Assistants and other student groups.
www.fanshawec.ca/positivespace
Spectrum Fanshawe
Spectrum Fanshawe is a student-run social and advocacy group for LGBTQ2 identified individuals and allies, sponsored by the Fanshawe Student Union. Spectrum regularly hosts discussion nights and information sessions with guest speakers, movie nights, coffeehouses and other social events, as well as encouraging student participation in community events like the AIDS Walk for Life in September and the Rainbow Revolution in October, a collaborative event with Western University.
www.facebook.com/spectrumfanshawec