It takes a village to change the way we think about learning.
Imagine a place that welcomes all and is student-focused. Where students do things differently, in a non-traditional manner, where attitudes are open-minded, where community partners will access expert resources of students and professors through project work all with a view to fueling economic growth and social benefits.
What is Innovation Village?
In the heart of the Fanshawe London Campus, Innovation Village will be a physical and virtual hub where students will discover one-stop supports and exceptional learning. It will include collaborative work spaces, virtual reality and multimedia labs, a makerspace, project rooms, research support and cutting edge equipment.
Feature story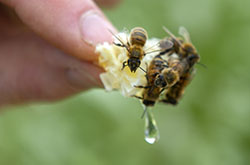 October 2019
Bee hives featured in innovative research project at Fanshawe College.
Read about Fanshawe's apiary project.