It takes a village to change the way we think about learning.
Imagine a place that welcomes all and is student-focused. Where students do things differently, in a non-traditional manner, where attitudes are open-minded, where community partners will access expert resources of students and professors through project work all with a view to fueling economic growth and social benefits.
What is Innovation Village?
In the heart of the Fanshawe London Campus, Innovation Village will be a physical and virtual hub where students will discover one-stop supports and exceptional learning. It will include collaborative work spaces, virtual reality and multimedia labs, a makerspace, project rooms, research support and cutting edge equipment.
Feature story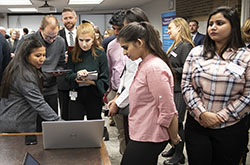 February 2020
Fanshawe is proud to be a partner of CityStudio London.
Read about this unique collaboration.
Get in touch!
Interested in learning more about how students can complete projects or conduct research for your organization? Please provide the following information:
Information For
Fanshawe's Community Employment Services has received federal funding to provide the Career Launcher program in London, Simcoe, St. Thomas and Aylmer, Ontario.

Due to the ongoing COVID-19 pandemic, Fanshawe College has made the difficult decision to defer all fall 2020 convocation ceremonies.
RT @ldnontmayor: As always, if you see individuals or businesses breaching COVID19 guidelines in London please call 519-661-4660, or e-mail…
View on Twitter