Overview
Compensation & Benefits Administration
This course will provide students with an understanding of the process, issues, and techniques involved in administering a compensation system. Students will learn both the theoretical and applied aspects of the compensation function; the linkage between the compensation function and the organizational management process; and the compensation system design necessary to attract, retain and motivate the required workforce. This course is HRPA approved and is required to write the Comprehensive Knowledge Exam 1 (CKE1) and/or the Comprehensive Knowledge Exam 2 (CKE2). These exams are part of the attainment of the externally accredited entry level Certified Human Resources Professional (CHRP) designation (CKE1) and/or the advanced level Certified Human Resources Leader (CHRL) designation (CKE2), respectively. You must achieve a minimum of 65% in any one of the nine CHRP/CHRL courses and an overall average of 70% in these nine courses to be eligible to write the CKE1 and/or CKE 2. For further information on this designation, please see:
https://www.hrpa.ca/
Area of Interest:
Business, Finance & Administration
Prerequisites:
Take MGMT-1017 (Human Resources Management) or MGMT-3041 (Organizational Behaviour)
Course Offerings
Thank you for your interest in this course. At this time, there are no upcoming classes scheduled. New offerings in future terms will appear below so you are encouraged to check back again throughout the year. To inquire about when upcoming classes might be planned, please fill in the form on this page and we will respond shortly.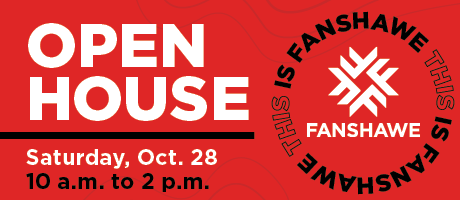 Join Us for Open House
Find out if Fanshawe is the right fit for you at Open House. Explore Fanshawe's campuses, meet faculty and current students, and ask your questions about starting college.
Register for Open House