Overview - 2021/2022
You like observing how people and products work together. How products, workplaces and environments can effectively influence how people interact and engage each other. And you're always looking for ways to make things even better.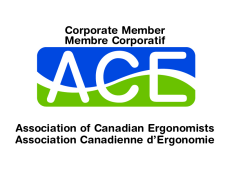 The Advanced Ergonomic Studies graduate program, the first of its kind in Canada, will provide you with a fundamental understanding about the science of ergonomics.
In labs, classes and field placements, you will learn to use analytical tools to provide assessments of an employee's job related tasks in the workplace. Current technologies and techniques will be examined in addition to applying theoretical principles to worker and workspace interactions. You will study the legislative and regulatory environment, the role of the Workplace Safety and Insurance Board and the financial impacts of injury. Students will also have the opportunity to attend the Applied Ergonomics Conference.
Upon completion of the program, graduates may apply to the Canadian College for the Certification of Professional Ergonomists (CCCPE) for the designation of Associate Ergonomist. CCCPE is an international certification and has been recognized by the International Ergonomics Association. Further information regarding certification by the CCCPE can be found at https://www.cccpe.ca/.
Program timetable: The timetable for this full-time graduate program includes many afternoon and evening classes.
Advanced Ergonomic Studies Faculty
Admission Requirements - 2021/2022
Admission Requirements
A Degree in Kinesiology or Human Kinetics
OR
A Degree in Engineering, Health Sciences, Nursing (or equivalent) or in a related discipline (as determined by the College)
AND
Successful completion of the following university or college courses (as determined by the College): 
    - Anatomy
    - Physiology
    - Biomechanics
    - Qualitative and Quantitative Design and Analysis

Note:
- Applicants who lack the required Anatomy and Physiology may still gain eligibility for admission by completing appropriate prior upgrading. Please contact the Program Coordinator for more information about online courses.
English Language Requirements
Applicants whose first language is not English will be required to demonstrate proficiency in English by one of the following methods:
A Grade 12 College Stream or University Stream English credit from an Ontario Secondary School, or equivalent, depending on the program's Admission Requirements
Test of English as a Foreign Language (TOEFL) test with a minimum score of 88 for the Internet-based test (iBT), with test results within the last two years
International English Language Testing System (IELTS) Academic test with an overall score of 6.5 with no score less than 6.0 in any of the four bands, with test results within the last two years.  SDS Program Requirements.  
Canadian Academic English Language (CAEL) test with an overall score of 70 with no score less than 60 in any of the four bands, with test results within the last two years
Pearson Test of English Academic (PTE) with a minimum score of 59, with test results within the last two years
A Cambridge English Test (FCE/CAE/CPE) with an overall score on the Cambridge English Scale of 176 with no language skill less than 169, with test results within the last two years
An English Language Evaluation (ELE) at Fanshawe College with a minimum score of 75% in all sections of the test, with test results within the last two years
Fanshawe College ESL4/GAP5 students: Minimum grade of 80% in ESL4/GAP5 Level 9 or 75% in ESL4/GAP5 Level 10
Applicant Selection Criteria
Where the number of eligible applicants exceeds the available spaces in the program, the Applicant Selection Criteria will be:
Preference for Permanent Residents of Ontario
Receipt of Application by February 1st (After this date, Fanshawe College will consider applicants on a first-come, first-served basis until the program is full)
Achievement in the Admission Requirements
Courses
Advanced Ergonomic Studies-2021/2022
Level 1
ERGO-6006
Ergonomics Theory & Practice
4.5
This course, along with the hands-on experience gained in the lab, will build upon students' fundamental understanding of ergonomic principles and the application of those principles in the design of work systems including the assessment of workplaces and injuries through use of ergonomic tools and implementation of solutions. Topics of study will also include: ergonomic methodology and measurement, ergonomic assessment tools, program implementation including cost benefit analysis and psychosocial factors that impact worker performance. The course includes practical application of the assessment tools and theory through laboratory assignments. The final project will allow the students to demonstrate their understanding of the course content through application to a real world problem in the workplace.
ERGO-6002
Research Methods & Statistics
4
This course will prepare students to conduct research and academic writing as it applies to the field of ergonomics. The research process will be introduced including: literature review, conceptualization, operationalization, and report writing.The foundations of statistical analysis will also be examined including: ANOVA, t-tests, and post-hoc tests. Additional focus will be given to the importance of sample sizes, power, and the corresponding effects on research outcomes. At the end of the course, students will be able to design a study, interpret research findings, and critically examine technical reports. The students will also learn how to use statistical software to help them solve their research problems, and present their data in an effective and efficient manner.
ERGO-6004
Human-Computer Interactions
2
This course introduces students to the methodologies and principles for designing user interfaces, as well as the importance of program layout and suitability. Additional focus will be given to human psychology and how humans process information and react to their environment.
SFTY-6006
Safety in the Workplace
4
This course will provide students with an understanding of the fundamental and legislated requirements for establishing an effective occupational health and safety program, as well as equip them with strategies to reduce the risk of worker injury and illness associated with various types of workplace hazards. Key topics will include concepts of effective safety leadership, safety systems of management, internal responsibility system, core program requirements, effective hazard assessment, incident investigation, and the impact of workplace injury and illness. The integration of ergonomics into the overall health and safety program will also be a key theme of this course. Students will be required to submit projects on the topics of hazard and assessment, program development, incident investigation as well as control strategies to demonstrate their understanding of loss assessment and prevention.


Level 2
ERGO-6005
Research in Ergonomics
3
The research behind many of the tools and techniques used by ergonomists will be explored in detail in this course. Students will learn a brief history of research in ergonomics and how key research findings have helped shape and improve the practice. A primary focus will be critical assessment of existing research and recognizing how it can be applied in practice. Students will develop their own research proposal. A review of Six Methodology and also forecast the impact of evolving technology on the field of ergonomics.
ERGO-6007
Ergonomics Instrumentation
4.5
This course will provide students with basic knowledge of instrumentation commonly used in the field of ergonomics. Topics were selected to represent areas where an understanding is necessary for performing measurements to assess workplace ergonomics including exposures to physical & environmental agents. Quantifying demands of workplace environments from force measurements, noise, vibrations and sound. Students will apply theory learned in the classroom, in laboratories and around the college that simulate workplace scenarios.
ERGO-6009
Human Factors & Design
4
This course focuses on the application of human factors (encompassing both physical and cognitive ergonomics) in the design and redesign of products, processes and systems to optimize human performance. The course begins by introducing the fundamental principles and key concepts of design within the context of ergonomics. Students then explore various aspects of cognitive ergonomics (e.g., reliability, decision-making, stress, fatigue) and their influence on design. Students revisit various elements of physical ergonomics introduced in other courses (e.g., anthropometrics) from a design perspective. Through labs and practical assignments, students gain experience applying both physical and cognitive ergonomics and associated instruments within a design context. In a final group project, students design or redesign a product, process or system incorporating relevant human factors.
ERGO-6001
Professional Development
2
Students will complete career planning preparations for work as a professional in the field of ergonomics. Course content will examine the ethics and code of practice for ergonomists, plus their roles and responsibilities within a workplace. Central to this course will be the compilation of a career portfolio for the eventual submission to the Canadian College of Certified Professional Ergonomics (CCCPE) governing body. Preparing the student for office, manufacturing or health care with interview skills, personality evaluations and learn principles.
ERGO-6003
Ergonomics & Legislation
2
Students will be introduced to applicable provincial and federal legislation, known government policies, and other workplace standards relating to worker safety, ergonomics, and return to work. Special attention will also be given to the role of the Workplace Safety Insurance Board (WSIB).


Level 3
FLDP-6016
Field Placement
8
The eight-week field placement is the culminating experiential learning opportunity for students in Advanced Ergonomic Studies. Positioned at the end of two semesters of intensive theoretical and practical study in the ergonomics discipline, the field placement enables students to apply skills and concepts in a workplace setting. Students are placed in an organization and will work under the guidance of an on-site mentor and a faculty member. The work activities in the field placement will align with the workplace expectations of a beginning practitioner of ergonomics. Emphasis will be placed on professionalism and the development of essential employability skills. Field placements are provided in a wide range of settings, including industrial and manufacturing environments, municipal government, health care institutions, software companies, utilities and consultancies. NOTE: Course hours may be allocated as field work hours in the CCCPE Education Course Allocation Log; the CCCPE currently requires a minimum of 280 field work hours for the Associate Ergonomist designation.




Careers - 2021/2022
Career Opportunities
Ergonomists apply theoretical and practical knowledge to optimize the interaction between humans and the environments and systems they engage. Career opportunities for graduates are diverse and may involve physical ergonomics, cognitive ergonomics, or both. Job titles depend on the sector and area of specialization but include ergonomist, human factors engineer, occupational health and safety specialist, and product designer. Graduates will find employment in a variety of sectors and work environments, including industry and manufacturing, healthcare, government, utilities, software companies and consultancies.
More Information - 2021/2022
A One-Year Ontario College Graduate Certificate Program

Contact
School of Public Safety: 519-452-4222
Program Description
This program will provide students with opportunities to expand and strengthen their fundamental understanding of the science of ergonomics. Both in the lab and in the classroom, students will learn to use analytical tools for quantitative and qualitative assessments of employees' job related tasks in the workplace. Current technologies and techniques will be examined in addition to application of theoretical principles to worker-workspace interactions. Additional topics of study include: the legislative and regulatory environment, the role of the Workplace Safety and Insurance Board, and the financial impacts of injury.
Other Information
Students who intend to pursue the Associate Ergonomist designation from the Canadian College for the Certification of Professional Ergonomists are encouraged to complete the following hours of study in the disciplines listed below at a post-secondary institution:
• Anatomy (45 hours)
• Physiology (45 hours)
• Biomechanics (45 hours)
• Qualitative and Quantitative Design and Analysis (45 hours)
• Ergonomics (30 hours)
Learning Outcomes
The graduate has reliably demonstrated the ability to:
1. Assess worker-workplace interactions and ergonomic concerns using current technologies and appropriate qualitative and quantitative techniques.
2. Identify the mechanisms and causes of injury in a variety of workplace settings and recommend appropriate assistive tools and workstation modifications to reduce the potential for workplace injury.
3. Synthesize information about the elements of an ergonomically sound workplace and proper work break patterns and exercises to guide their study design, evaluation, and/or proposed intervention.
4. Analyze the cost effectiveness of ergonomic methods and their value in mitigating the financial impacts of injuries in the workplace.
5. Prepare succinct technical reports and design specifications that include conclusions and recommendations that are supported by the analysis of data and the relevant scientific literature.
6. Collaborate and communicate effectively across functional teams and levels of management including with those involved in the process of having an individual safely return to work following an injury.
7. Recommend workstation, equipment, and tool design changes based on the application of anthropometrical tables and calculations.
8. Examine the impact of biophysical and psychosocial factors including human perception and information processing on an individual's performance in the workplace.
2022/2023 academic year: Refer to the More Info tab to view offerings for the 2022/23 academic year. Canadian students can start applying in early October for programs with Sep. 2022, Jan. 2023 and May 2023 start dates through ontariocolleges.ca.
Canadian Students
Start Dates
Locations
Availability
International Students
Start Dates
Locations
Availability
Program Coordinator:
Allison Stephens, MSc, CCPE, CPE
Delivery
Day Time
Full-Time
Credential
Ontario College Graduate Certificate