General Carpenter (Block Release) [Apprenticeship]
The General Carpenter program teaches apprentices to measure, shape, cut and construct forms for concrete pouring, create foundations, floors, walls and ceilings and build stairs, counters and cupboards -- all under the direction of experienced workers and employers, both on the job and in the classroom. This apprenticeship program will leave students with developed manual dexterity, organization skills and the ability to visualize how pieces come together.
Overview
The General Carpenter program takes a "start-to-finish" approach. Whether you're helping plan a large or small-scale renovation with plans specifications, you'll be involved in every step of whatever project you take on as you help to create safe spaces that people can work, play or live in. Under knowledgeable, detailed apprenticeship training, you'll develo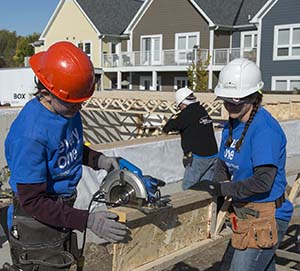 p manual dexterity, strong organization skills and the ability to visualize how pieces come together.
This program is a block release apprenticeship where students combine paid, on-the-job training from skilled tradespeople, with a full-time, on-campus classroom component from experienced skilled trade instructors. The classroom component includes three levels of theoretical training that may take anywhere from 8 to 12 weeks. Apprentices are required to complete all three levels of in-class training, along with the on-the-job training. This combination of short-class instruction and hands-on training will give you the right skill development needed to become a successful General Carpenter certified under the Ontario College of Trades.
Habitat for Humanity Women's Build
Admissions 
This is an apprenticeship program. You cannot apply to this program through ontariocolleges.ca. Applicants need a sponsor/employer. Your sponsor/employer must register you with:
The Ministry of Training, Colleges and Universities
Apprenticeship/Client Services
72-1200 Commissioners Road East 
London, Ontario, N5Z 4R3 
519-675-7788
MLTSD is responsible for scheduling your in-school training at Fanshawe College.
Career Information

*Students must have a job prior to enrolling in Fanshawe's General Carpenter (Apprenticeship) program.

Graduates of the General Carpenter program are eligible to pursue Red Seal endorsement as a licensed Journeyman carpenter. As a Red Seal carpenter, graduates will have opportunities in residential, commercial or industrial settings in estimating, layout, and constructing in the following areas of the trade:

framing
trimming
roofing
millwork and cabinet installation
renovations
scaffolding
exterior finishes
stairs
decks and fences

Did you know Fanshawe consistently ranks high in graduate employment rates among large colleges in Ontario? 

Here are some examples of career opportunities for graduates of Fanshawe's General Carpenter program:

Carpenter
Work on a variety of commercial and residential projects.

Trim Carpenter
Help with on-site installation of cabinets and doors.

Renovator

Complete repairs and renovations at various residential and commercial properties.
Program Coordinator:
Steve Laing
Credential
Ontario College Certificate
Courses
Level 1-Basic
CARP-1002
Estimat'g Layout & Calculations (Basic)
2
The student will develop an understanding of basic trade calculations and an ability to solve trade related problems. The student will learn to apply basic principles of Geometry to Construction layout and develop knowledge of practices of cutting, brazing and arc welding with oxy-acetylene, safely.
CARP-1003
Plans Specifications & Codes-Basic
2
This course prepares the student for usual working relationships in the industry; develops knowledge of architectural drawings and related equipment; develops ability to read and interpret drawings and sketches from oral and written information.
SFTY-1053
Safety Materials & Tools
7.5
To develop in the apprentice knowledge and pride in the trade of Carpentry and its related regulations and organization. To develop knowledge of health hazards and other risks and first aid skills.To develop knowledge of materials, of wood and lumber, of skill in joints and fasteners, and of skill and selection of hand tools and power tools.
WELD-1056
Welding for Carpenters
0.5
To develop in the apprentice knowledge in the general safety practices and operating principles of oxy-acetylene and arc welding and skill in the basic levels of cutting, brazing, and welding.
View all courses
Contact/Questions