Overview
Medical Transcription
This course introduces the student to medical transcription and builds on previously acquired general transcription and keyboarding skills. The student will apply the basic medical knowledge learned in Medical Terminology 1 and concurrently in Medical Terminology 2 in the completion of various medical documents and records. As a transcriptionist, you are charged with the responsibility of assuring that the physician's words are recorded promptly and accurately. Accuracy, editing skills and reading/writing for understanding and meaning will be emphasized throughout the course. Advanced technology such as voice recognition systems, electronic patient records and electronic signatures directly affect the transcriptionist's role. The importance of professional ethics, privacy and confidentiality will be highlighted throughout the course.
Prerequisites:
# Take ADMN-3006 (Administrative Documentation 2) or COMP-1378 (Microsoft Office Essentials) # Take ADMN-1050 (Medical Concepts & Language 1) or ADMN-1042 (Medical Terminology 1) ;
Course Offerings
Thank you for your interest in this course. At this time, there are no upcoming classes scheduled. New offerings in future terms will appear below so you are encouraged to check back again throughout the year. To inquire about when upcoming classes might be planned, please fill in the form on this page and we will respond shortly.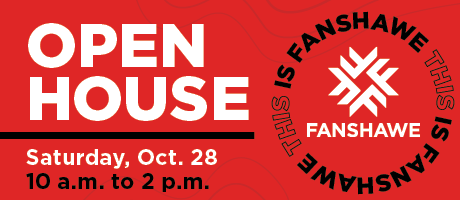 Join Us for Open House
Find out if Fanshawe is the right fit for you at Open House. Explore Fanshawe's campuses, meet faculty and current students, and ask your questions about starting college.
Register for Open House