Support for military-connected students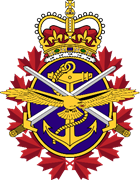 In partnership with the Canadian Armed Forces (CAF), Fanshawe College has created the first-ever Military-Connected Campus (MCC). This initiative provides students, CAF members, veterans and their families with career opportunities and additional supports for transition to civilian life. Military students have a unique set of transferable skills through their military leadership experience that Fanshawe wants to acknowledge and validate. A framework has been created to:
Support military personnel who are currently studying at the College
Support military members and veterans who are transitioning from active service through recognition of academic credit for prior military training and experience
Offer opportunities to transition to a new stable rewarding career
Support apprenticeships in the skilled trades
Provide heightened awareness to students about careers in the Canadian Armed Forces
What do military students receive?
Qualifying individuals could receive: 
Individualized military-connected support and advising from trained Fanshawe staff
Leadership recognition through a combination of military training and co-curricular Fanshawe activity through the Civilian Military Leadership Pilot Initiative (CMLPI)
Leadership notation on credential and recognition upon graduation
Academic credit for military experience
Opportunities for bursaries and funding
Access to events with the military-connected community 
 
Promise of Support for Military-Connected Students
Apprenticeships available for military-connected individuals
In partnership with Helmets to Hardhats (H2H) and Release Point Education, Fanshawe College has established the Military-Connected Student in Trades Pilot Program (MCSTPP) which seeks to provide military-connected students at Fanshawe with pathways into Canada's skilled trade industry.
Learn more and register for MCSTPP here
Millwright Scholarship
Investing in the Future
Thanks to Helmets to Hardhats, military-connected students now have the opportunity to participate in a one-year millwright certificate program. This program is being offered free of charge to qualifying participants. Learn the millwright trade and set yourself up for success!   
Email mcc@fanshawec.ca to learn more.
Sponsored by the Association of Millwrighting Contractors Ontario.
Veteran Affairs Education & Training Benefit – Fee Deferral 
Fanshawe has partnered with Release Point Education to develop a fee deferral program for veterans receiving the Education & Training Benefit.
We understand it is difficult to align a timely release with the start of a new postsecondary program. The program is meant to address funding concerns and remove a barrier for those transition from military to civilian life. Complete the form below to submit your application for this fee deferral incentive. 
PRIOR LEARNING ASSESSMENT AND RECOGNITION (PLAR)
Military-Connected individuals may be eligible to receive academic credit for their military experiences.
Fee Waiver on Diploma Level Communication Courses:
Military-connected students who are enrolled in diploma level communications courses and have reached Developmental Program (DP) Level 1 are eligible to have the prior learning assessment recognition (PLAR) fee waived.
This applies to courses that have a 3000-level prefix such as COMM-3020, COMM-3043, COMM-3080, etc. The DP level can be verified on your MPRR.
Military-Connected Student Ambassador
Jane Gristey is a third-year Honours Bachelor of Commerce (Human Resources Management) Degree student and a member of The 4th Battalion, The Royal Canadian Regiment based in London, ON. Jane has spent 7 years in the Canadian Armed Forces Reserve Force as a financial services administrator. For three of those years, Jane accepted a contract for a permanent full-time position where she acted as a human resources administrator. From there, she decided that she wanted to pursue further education at Fanshawe. During her time in the Army Reserves, Jane has made professional connections and friendships that will last a lifetime. She is very grateful for the experiences she has had and the opportunities that the Army Reserves has given her.
Jane continues to serve at the 4th Battalion, the Royal Canadian Regiment in a part-time capacity. Any students that are interested in joining the Canadian Reserve Force are encouraged to reach out to Jane. 
Jane can be reached via her FanshaweOnline email at any time for any questions, comments, or concerns: J_Gristey@Fanshaweonline.ca. 
Testimonials
"This semester, I was very fortunate to receive accommodations from Fanshawe in relation to the Academic Promise of Support which enabled me to finish my 3rd year early so that I could attend a military course. With guidance and assistance from my Program Coordinator and professors, I was able to write my exams and complete my course work a month early. This meant that I was able to attend a course that is essential to my career within the military."
Emma Williamson
Honours Bachelor of Commerce (Human Resources Management)
Military-connected student
 
"I am a Naval Reservist from London Ontario working as a civilian carpenter with the Carpenters Union Local 1946.  Recently I was offered a seat for my General Carpenter apprentice block training. This offer came while I was deployed with the Canadian Armed Forces. I obviously wasn't able to attend in class training due to my deployment. I approached the hardworking team from the Military Connected Campus program at Fanshawe regarding my situation and a training deferral. Within a matter of hours I had a response from them, several members of the College's staff, and the Apprenticeship Ontario office that the situation would be sorted out on my behalf and not to worry. It was such a relief to have the support and the backing from this community to sort this out for me while away. Kudos to the MCC team and thanks again for all the support."
Iain Coxen
General Carpenter Apprenticeship (Block Release)
Military-connected student 
 
Frequently Asked Questions
 FAQ – Status, qualifications and admissions
Who is a military-connected student?

 

Military-connected students are those individuals with significant ties to the Department of National Defence (DND), Canadian Armed Forces (CAF) or who have served with a foreign military. There are six sub-categories of military-connected students:

Current serving, Regular Force member;
Current serving, Primary Reservist;
Veteran;
Department of National Defence – Civil Servant;
Immediate family of CAF service member or Veteran; and
Foreign Military Veteran

To properly recognize military-connected students at Fanshawe, we encourage you to self-identify upon accepting an offer. To do so, you can reach out to the Fanshawe College military-student advisor (contact info listed above), your program lead and faculty. This will ensure that you are included in military-connected events, such as recognizing your dual commitment to post-secondary education and service during graduation ceremonies.

 
How can my military qualifications be recognized at Fanshawe?

 

At Fanshawe College, military service may be recognized as a source of prior learning for the purpose of obtaining academic credit. This assessment is viewed through the lens of specific program or course learning outcomes.

Please review our Prior Learning Assessment and Recognition (PLAR) page to learn more about the process and the potential relation to your military training and qualifications. This is the starting point for understanding your prior learning recognition.

Contact an Admissions and Pathways Advisor in the Office of the Registrar if you have any questions about the process. You can submit a PLAR application before you are registered as a Fanshawe College student.

 
Can I combine my military experience and credits earned at another post-secondary institution for recognition at Fanshawe?

Students can request academic credit for both military experience and previous post-secondary education, if they meet Fanshawe's residency requirement and all other criteria under the Recognition of Prior Learning Policy.
Prior military experience and other non-academic experience are assessed though the Prior Learning Assessment and Recognition (PLAR) process.

 
I hold a nationally recognized certification as part of my military occupation speciality, how can I get credit towards a program at Fanshawe?

Students can request academic credit for both military certifications if they meet Fanshawe's residency requirement and all other criteria under the Recognition of Prior Learning Policy.
Prior military experience and other non-academic experience are assessed though the Prior Learning Assessment and Recognition (PLAR) process.

 
I am enrolled in a Co-operative Education program. Can I use my current role or past role(s) in the military as my Co-op Work term?

 

Co-op work terms are aligned with academic learning outcomes with the goal of attaining valuable experience in your chosen field. If your past experience(s) is aligned with your program of study, you may be eligible to PLAR. If it is not aligned, your Co-operative Education Consultant can assist you in articulating your unique blend of skills to secure strong Co-op positions that will support your new direction. Connect with your Co-operative Education Consultant to explore both options.

 
I am interested in the Maple Scholar Program; can you tell me if I qualify?

 

Any current or former member of the Canadian Armed Forces who can demonstrate successful completion of Developmental Period 2 (DP2) and either have attained or is eligible for promotion to the next rank or above will be considered as having met the requirement of a prior diploma or work experience necessary for admission into several of Fanshawe's graduate certificate programs. The graduate certificate programs approved for DP2 applicants at this time are:
Can you tell me more about the Civilian Military Leadership Pilot Initiative (CMLPI)?
As a military-connected student, will I get preferential consideration for competitive programs?

We recognize that several Fanshawe College programs are competitive, where military-connected students may not have the formal prerequisites, academic upgrading or challenge exams are available. Military-connected students will receive pre-application support for these programs, but will need to apply using OCAS and meet the requirements as listed and compete with all other applicants in our selection process which is explained at fanshawec.ca/hcp. 
Fanshawe College values all students, regardless of background, and will continue to maintain an unbiased and equitable approach to admissions in competitive programming.
 

FAQ – Commitment to service
Is my program at Fanshawe flexible around my military service?

 

Military-connected students and their families face continued personal and professional challenges, such as barriers to employment and learning interruptions due to the exigencies of military service. In an effort to recognize these concerns, especially as related to continued post-secondary education, Fanshawe College supports the flexibility and portability of many college programs, particularly the Developmental Services Worker (DSW) Apprenticeship opportunity. The highly versatile learning pathway of the DSW program is an ideal option for those interested individuals who are geographically dispersed throughout Ontario.

 
How can Fanshawe support my military responsibilities such as unexpected call-outs, training exercises and deployments? Can I pause my program for a prolonged military deployment or training period?

 

Fanshawe is acutely aware of the challenges in maintaining a balance between military service and the pursuit of post-secondary education. If you are experiencing difficulties and subject to competing priorities, we encourage you to discuss the situation with your program coordinator and faculty as the first step in reaching an achievable solution. We encourage all options to be explored with the view to assisting you to complete your chosen program within an appropriate timeline.

Any request to participate in extended military training or deployments must be accompanied with official substantiation provided by your chain of command (see below).

 
What type of substantiation is required to support my military deployment or prolonged training period?

 

Military deployments and training periods, both domestically and internationally, are accompanied by a series of orders and instructions that allow CAF members to conduct assigned duties. To augment any request for suspension or program hold, validation from your chain of command must be submitted.

Dependent on the length and location of the deployment, there may be an option to continue studies while deployed. All course/program considerations must be addressed to the individual faculties.

 

FAQ – Financial aid, scholarships and bursaries
As a military-connected student, am I eligible for bursaries, scholarships and other funding opportunities?

 

Yes - The Financial Aid and Awards Office provides financial support and advice to help students fund their college education through government and donor funding, and to recognize student excellence. There are many different offerings available and they are subject to varying criteria. We have listed some available ones below:
​​​​
Fanshawe College Canadian Cadet Bursary
Deadline: Ongoing
More info: Please contact the Financial Aid and Awards office.

44 North Digital Marketing Scholarship
Criteria: For a student who has served or will be serving in the Canadian Armed Forces, or has a family member who has a record of service in the Canadian Forces.
Deadline (Fall 2021): December 31, 2021
Deadline (Winter 2022): January 1 to April 30, 2022
Deadline (Summer 2022): May 1 to July 31, 2022

More info: Please contact the Financial Aid and Awards office.

For questions about the awards listed above and all College awards, please contact the Financial Aid and Awards office.
As a sponsored student, where is my eligible Tuition and Enrolment Certificate (T2202) delivered?

 

Dependent on your sponsorship arrangements, you may not be eligible to claim tuition on your personal income tax. Ensure you are aware of your individual benefits and how tax credits are applied. At Fanshawe, tax-related slips are issued electronically through WebAdvisor.

 
I am a financially-sponsored student, can Fanshawe provide substantiation that I am a registered student in good standing?

 

Yes. With your written request, Fanshawe College can send a letter directly to your financial sponsor or your Canadian Armed Forces chain of command indicating your standing.

 

FAQ – Student services and support
Are there other military-connected students on campus? Is there a military-specific social support group?

 

Fanshawe is committed to the development of tailorable military-connected student supports and is continually seeking your input to further build a community of practice. Fanshawe College is looking to build a military-connected social support framework and we encourage the creation of student-led groups. Our intent is to foster student-led groups, thereby providing opportunities for campus-wide engagement, leadership and networking.

On-campus student club: In partnership with the Fanshawe Student Union (FSU), we have created a student club to specifically support military-connected students. To join, please email our Military-Connected Student Ambassador, Andrew Malison, at mccstudentclub@gmail.com.

College-wide events: Throughout the academic year, Fanshawe recognizes military-connected students (such as graduation) and we do encourage campus-wide participation. During these events, we ask you to identify yourself to the event organizer.

External support groups: We encourage military-connected students at Fanshawe to maintain contact with local Veteran groups and the military community.

 
As a CAF member/Veteran, I have full health and dental coverage. Can I opt out of the Fanshawe College health care plan?

 

Yes. All ancillary fees are paid in accordance with the program fee schedule. When students opt out of medical coverage, a refund will be given to the student.

 
Who can I speak to for career advice?


If you have questions about making decisions about your future career change, please contact your dedicated Career Transitional Advisor for MCC students, Jennifer Lee. She can be reached at jslee@fanshawec.ca.
 
I have a disability. How can Fanshawe help with my learning?

 

Fanshawe College has many services available that can be helpful to students with disabilities. Accessibility Services are available for students with any type of accessibility need including 'non-visible' disabilities such as learning disabilities, medical conditions, and mental health diagnosis.

 

We have a great team at Fanshawe and we are committed to ensuring students have equitable access to learning opportunities. The College is required by law to provide accommodations that allow students with disabilities to have equal access to education if they meet admission requirements to a program.

 

We recommend you register with Accessibility Services as early as possible to get started on your accommodation plan. Visit fanshawec.ca/earlyid to do so.

 

More information on Accessibility Services, Accommodations, How to Register, and Transitioning to College can be found on the Accessibility page or by contacting Counselling and Accessibility Services at 519-452-4282 or counselling@fanshawec.ca.

 
Does Fanshawe offer counselling services to students?

 

Yes. At Fanshawe College, "personal counselling" refers to confidential professional counselling - offered by registered psychotherapists and registered social workers - to individual students or groups of students, in order to address personal concerns that are impacting their academics, such as:
 

mental health concerns;
grief and loss;
coping with stress;
family or other relationship issues;
abuse issues (e.g., domestic violence, sexual assault);
suicidal thoughts/intentions;
substance use and addictions;
adjusting to Canadian and/or college life


Our counsellors will work with you to identify what is causing your distress and to create a plan to support you and help you to better cope with, address, and manage these concerns. We also offer self-help resources, peer supports, groups and sessions related to coping and wellness and help with referrals to community resources where appropriate.

 

For more information or to book an appointment, please call 515-452-4282 or email counselling@fanshawec.ca. You can also find more information and a list of Frequently Asked Questions at fanshawec.ca/counselling.

FAQ – Other
Can I wear my uniform on campus?

 

While Fanshawe College is extremely proud of our Canadian Armed Forces members, there is no requirement to wear a military uniform on-campus. There may be times where military-connected students are encouraged to wear their uniform such as commemorative ceremonies, graduation and special events. For Veterans, the wearing of medals is encouraged during these same periods. Military-connected students must ensure that wearing of uniforms during special occasions is authorized through their chain of command.

 
I recently heard that Fanshawe College signed a Memorandum of Understanding with the Canadian Armed Forces. How does this agreement impact my learning?

 

The Civil-Military Leadership Pilot Initiative (CMLPI) is a mutually beneficial partnership that is intended to grant Army Reserve members and new recruits' recognition for their military training, as well as opportunity to develop leadership skills.

The CMLPI is an integrated program that is designed to further develop participant leadership skills through the planning, development and execution of various on-campus activities. Students will work with the Fanshawe CMLPI Coordinator and assigned Military Coordinators who will guide participants through the various learning outcomes. Successful completion of the program will be recognized with a CMLPI certification at graduation.

Eligible students can join the CMLPI through direct or recruit entry. Direct entry students are serving Army Reserve members and either new or existing Fanshawe students. Recruit entry students are individuals who meet entry conditions at Fanshawe and subsequently can apply to the CMLPI by joining the Army Reserve and serve a minimum of 16 months.

For more information on the CMLPI, speak with your Military Coordinator or the Fanshawe CMLPI representative.