Friday, September 14, 2018
Image
Image
Chef Josie Pontarelli is passionate about contributing to the local food movement in southwestern Ontario. Here are two of her favourite recipes using local, in-season food.
Zesty chicken tacos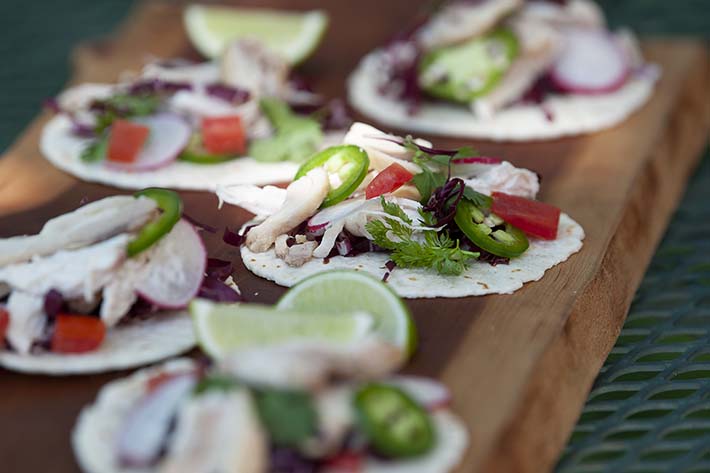 Serves 6
Ingredients
12 small (6") corn tortillas (There are a number of local good quality producers in the St Thomas area)
½ small purple cabbage, shredded
1 tsp kosher salt, plus more to taste
2 limes
6 small radishes, thinly sliced
1 cup crumbled sheep's milk cheese such as queso blanco or feta
2 whole chicken breasts, shredded
1 cup sour cream
1 cup salsa
1 cup cilantro leaves, washed
1 whole jalapeno, thinly sliced
Method
Toss the cabbage, juice of one lime and salt together in a medium bowl. Cut the remaining lime into 6 wedges for garnish. Set the cabbage aside and allow the salt and acid to work their magic, the cabbage will be crunchier and more flavourful when prepared in this way.
To assemble the tacos: Warm the tortillas either on the grill or in the microwave.
Spread the tortillas with the cabbage, radishes and cheese. Add the shredded chicken.
Top with sour cream and salsa. Garnish with cilantro and jalapeno. Serve immediately.
Delicious potato "risotto" with chicken and greens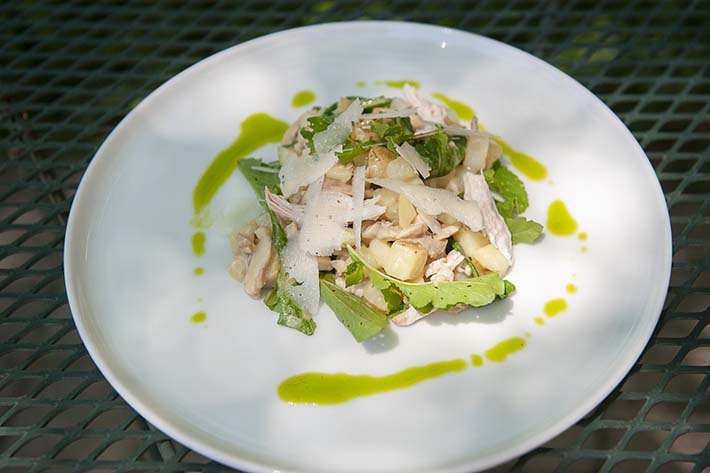 Serves 6
Ingredients
1 whole onion, diced
2 cloves garlic, chopped
¼ cup olive oil
2 lbs organic starchy potatoes such as fingerlings, diced
3-4 cups chicken stock; use what you need and freeze the rest
2 cups shredded chicken leg meat
1 cup grated Parmigiano Reggiano or other hard grating cheese
¼ cup unsalted butter
3-4 handfuls fresh greens such as spinach, arugula or baby kale
Kosher salt and freshly ground pepper to taste
Method
In a small saucepan, warm the chicken stock over low heat. In a large saucepan over medium heat, sweat the onion and garlic in oil until soft and translucent. Add the potatoes, stir to combine, ensuring that the potatoes are well coated in oil. This will help the potatoes absorb the stock more uniformly.
Raise the heat to medium and begin adding the stock one ladleful at a time, to just cover the potatoes, stirring constantly. The more the potato mixture is stirred, the more starch will be released from the potatoes, which means the finished mixture will be creamier in texture.
Continue cooking, adding the broth a little at a time, until the potatoes are tender. Add the shredded chicken, stir to combine and remove from heat. Quickly stir in cheese, butter and greens until combined. Season to taste, serve immediately.
About the expert
Josie Pontarelli is the coordinator of the Artisanal Culinary Arts program at Fanshawe College and is a Senior Advisor, Restaurant Services at First Key Consulting. She is a graduate of the prestigious Stratford Chefs School and a Red Seal certified chef.
She is passionate about contributing to the local food movement in southwestern Ontario. Most recently, she co-founded the food and beverage pairing blog site Cork+Board with friend and sommelier, Christie Pollard.