Why study online at Fanshawe College?
Take advantage of Fanshawe's exceptional learning experience from the comfort of your own home. With more than 50 online programs and hundreds of online courses to choose from, it's easy to get started with online classes at Fanshawe.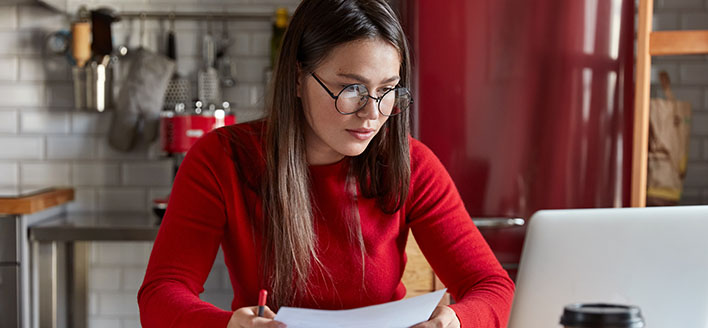 Fanshawe's Online Learning Commitment

Fanshawe is committed to delivering creative and interactive online learning experiences to build your skills, advance your knowledge and get you ready for an exciting career. Fanshawe commits to help every student to be successful in their online studies with the following:

Academic Commitment

Fanshawe faculty are committed to helping you learn the skills that will make you successful. Just because lectures are online doesn't mean you won't develop rich relationships with our experienced faculty and staff. The Fanshawe Academic Commitment is:

All Fanshawe programs delivered online will be taught by highly trained Fanshawe professors and teaching staff.
You will have live, online access to your professors every week.
Every program coordinator will have weekly scheduled office hours where you can connect live, ask questions and get feedback.
Academic advisors, who are experts in your program, are available Monday to Friday, to book live virtual appointments to discuss program pathways, accessibility referrals or create personalized academic success and progression plans.

Student Services Commitment

Whether you need career advice, tutoring, personal and academic counselling, technical help or financial assistance, Fanshawe is here for you and that's a promise.

You've got questions, we've got answers. Student support services at Fanshawe commit to personally responding to all phone and email inquiries within 24 business hours. If we don't know the answer, we commit to finding it and won't leave you hanging.
We are extending the customer service hours of our Student Service Hub to be there for you when you need us the most.
Flexible learning

Fanshawe offers both part-time and full-time options, plus, online learning is a great option for working professionals looking to transition into a new career, people with family demands or those who want the flexibility to learn at their own pace.
Career-focused programming

Certificate, diploma and graduate certificate programs are offered at Fanshawe, with many leading to professional designations to help you achieve your goals.
How are online courses offered?
Our online courses are designed by our experienced faculty and program teams with you in mind. They understand the need for flexibility and support while factoring in the unique learning outcomes and experiential activities you've come to expect from Fanshawe College. We offer our an online education in two different formats - asynchronous and synchronous. 
Asynchronous simply means there are no scheduled classes, but you will receive structured guidance and support from your professor throughout your course.
Synchronous means you will have scheduled hours with your classmates and professor, or a form of blended delivery where some of the course may be online and some in a face-to-face learning environment.
Check out more frequently asked questions
Are you ready to learn online?
Experience a free online course and explore online learner resources