Overview
Developing Leadership Capacity
Within the context of unprecedented changes in the world we live in, the course focuses on supporting students through a process of learning and inquiry that prepares them to maximize their learning effectiveness and to increase their own leadership capacity. It focuses on the essential leadership skills and attributes needed for success in contemporary leadership position: the ability to inspire employees to peak performance to foster a workplace culture of trust and continuous improvement, to embrace change and innovation for continuous growth and build a high-performance work team. In order to maximally benefit from this course, students need to have experience working in an organization because many of the course assignments, assessments and activities require this context. This course is offered through OntarioLearn by the host college, Algonquin College.
Area of Interest:
Business, Finance & Administration
Course Offerings
Thank you for your interest in this course. At this time, there are no upcoming classes scheduled. New offerings in future terms will appear below so you are encouraged to check back again throughout the year. To inquire about when upcoming classes might be planned, please fill in the form on this page and we will respond shortly.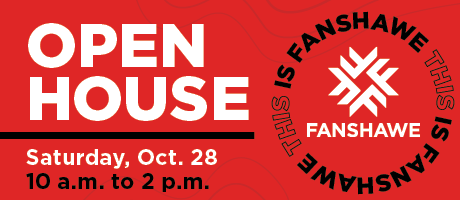 Join Us for Open House
Find out if Fanshawe is the right fit for you at Open House. Explore Fanshawe's campuses, meet faculty and current students, and ask your questions about starting college.
Register for Open House