Overview
Post Anaesthesia Care Nursing
Designed for Health Care Professionals currently practicing in a post anesthesia care setting and for those interested in acquiring skills and knowledge in assessing and caring for the post anesthesia patient. Includes a review of body systems and how they are affected by the stress of anesthesia and surgery. Emphasis is placed on anesthesia, common post anesthesia problems and their management. Other topics include current trends in pain management, treatment of nausea and vomiting, care of patients at risk and electrolyte and blood gas analysis.
Course Offerings
Thank you for your interest in this course. At this time, there are no upcoming classes scheduled. New offerings in future terms will appear below so you are encouraged to check back again throughout the year. To inquire about when upcoming classes might be planned, please fill in the form on this page and we will respond shortly.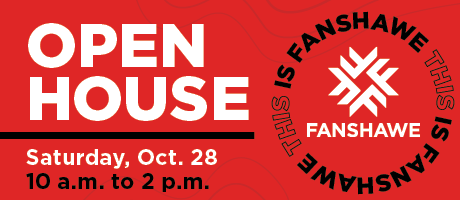 Join Us for Open House
Find out if Fanshawe is the right fit for you at Open House. Explore Fanshawe's campuses, meet faculty and current students, and ask your questions about starting college.
Register for Open House