Ontario College Credentials available part-time
Fanshawe offers the flexibility of studying various Ontario College certificate, diploma, advanced diploma, degree and graduate certificate programs part-time with many delivered online! To apply for any of the following programs, go to ontariocolleges.ca.
Accepted your program? Learn How to Register for Courses
How is part-time post-secondary learning different?
Navigate through the following common questions about part-time post-secondary learning and earning your Ontario College credential.
How long will it take me to finish a post-secondary program part-time?

 

Taking an Ontario College diploma on a full-time basis normally takes two years to complete, while an on Ontario College graduate certificate is normally completed in one year. Taking the program on a part-time basis will take longer to complete depending on how many courses and consecutive terms you choose to enroll.

Completing two courses per term will allow you to achieve a graduate certificate in three years and a diploma in six years. You can finish faster by taking three courses per term every term courses are offered, including the summer term. You will be able to register in one to three courses each term.

 
Why do I need to apply through ontariocolleges.ca for part-time post-secondary programs?

 

Because these are Ontario College credentials, your education background needs to be assessed to make sure you meet all of the academic admission requirements for the program.

 
What does applying through ontariocolleges.ca mean for me?

 

Students who go through this admission process have exclusive access to certain part-time courses;
You can apply to both full and part-time programs at Fanshawe or any college within Ontario;
Once we have your transcripts, we keep them for years so you can apply to other programs in future without having to start the whole process from the beginning;
As a formally registered student, you are connected to our admission staff to assist you with any questions you have throughout the process.

 
If I study part-time, do I qualify for financial assistance?

 

Yes! The Ontario Student Assistance Program is available for part-time studies. Find out if you're eligible at osap.ca. You may also be eligible for bursaries through Financial Aid and Awards as well.

 
What is the difference between online learning and being in the classroom?

 

Online learning requires a different set of learning strategies than being in a classroom with a teacher providing instruction. Fanshawe has put together a number of tools and resources under Online and Distance Learning to help you assess your online readiness, including a free online quiz at amiready.ca.

 
Part-time Tuition Fees:
Course Sequences
Course Sequences for Part-time Programs
View our Programs
Part-time certificate programs
Business Fundamentals - BFS2 (Online)
General Arts and Science - One year - GAP1 (Online)
Office Administration - General - OAG1 (Online)
Personal Support Worker - PSW6
Tourism - Travel Studies - TTS1 (Online)
Part-time diploma programs
Business - Accounting - BAC2 (Online)
Business - Finance - BFN4 (Online)
Business - Human Resources - BHR1 (Online)
Business - Marketing - BMK1 (Online)
Computer Programming and Analysis - CPA3 (Online)
Early Childhood Education - ECE1 (Online)
Office Administration - Executive - OAE3 (Online)
Office Administration - Health Services - OAM4 (Online)
Practical Nursing - PNG5 (In-class, London or Woodstock)
Web Development and Internet Applications - IWD2 (Online)
Part-time advanced diploma programs
Business Administration - Accounting - BAA2 (Online)
Business Administration - Human Resources - BAH1 (Online)
Business Administration - Leadership and Management - BAL1 (Online)
Business Administration - Marketing - BAM2 (Online)
Part-time degree completion programs
Honours Bachelor of Commerce (Accounting) - BCA1 (Online)
Honours Bachelor of Commerce (Management) - BCM1 (Online)
Honours Bachelor of Commerce (Digital Marketing) - BDM1 (Online)
Honours Bachelor of Commerce (Human Resources Management) - BHM1 (Online)
Part-time graduate certificate programs
Autism and Behavioural Science - AUT3 (Online)
Customer Relationship Marketing and Sales Management - CRM2 (Online)
Geographic Information Systems (GIS) - GIS1 (Online)
Health Systems Management - HSY2 (Online)
Human Resources Management - HMG1 (Online)
Information Security Management - ISM1 (Online)
Marketing Management - MKM1 (Online)
Network and Security Architecture - NSA1 (Online)
Operations Management - OPM2 (Online)
Professional Financial Services - FSP1 (Online)
Project Management - PRJ1 (Online)
Research and Evaluation (Co-op) - RES2 (Online)
Retirement Residence Management - RRM1 (Online)
Software and Information Systems Testing (Co-op) - SST3 (Online)Sport and Event Marketing - SMM1 (Online)Supply Chain Management - Logistics - SCM2 (Online)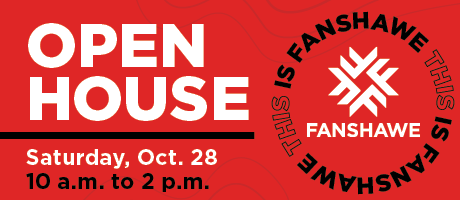 Join Us for Open House
Find out if Fanshawe is the right fit for you at Open House. Explore Fanshawe's campuses, meet faculty and current students, and ask your questions about starting college.
Register for Open House